5.   The journal editor is looking for something specific at a particular time
Sometimes, journal editors may wish to publish a thematic issue of the journal or may be interested in a current hot topic, in which case they might tend to accept more papers focusing on that particular topic.
6.   The journal receives more than one submission on the same topic
In such cases, the journal may well choose to publish only one of the manuscripts, rejecting the other for no other reason than that they already have a paper on a similar topic.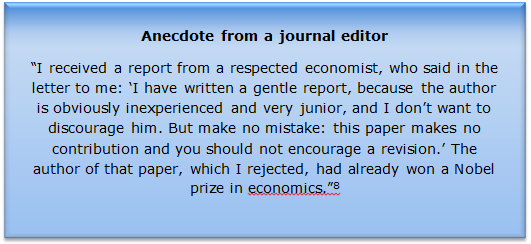 Conclusion
There are many reasons that journals reject manuscripts for publication, some due to the quality of the research or manuscript, and some due to completely avoidable reasons like mismatch with the journal. Further, it is not rare for journals to reject even high-quality manuscripts simply because of space constraints or other issues. The reasons given above are some of the most common reasons for rejection, but they are not the only ones. Other reasons include salami publications, non-conformance to ethics policies, and plagiarism.
Bibliography
1. Coronel R (1999). The role of the reviewer in editorial decision-making. Cardiovascular Research, 43(2): 261-264. doi: 10.1016/S0008-6363(99)00177-7.
2. Ehara S & Takahashi K (2007). Reasons for rejection of manuscripts submitted to
3. AJR by international authors. American Journal of Roentgenology, 188(2): W113-6. doi: 10.2214/AJR.06.0448.
4. Byrne DW (2000). Common reasons for rejecting manuscripts at medical journals: A survey of editors and peer reviewers. Science Editor, 23(2): 39-44.
5. Bordage G (2001). Reasons reviewers reject and accept manucripts: The strengths and weaknesses in medical education reports. Academic Medicine, 76(9): 889-96.
6. Wyness T, McGhee CN, Patel DV (2009). Manuscript rejection in ophthalmology and visual science journals: Identifying and avoiding the common pitfalls. Clinical & Experimental Ophthalmology, 37(9): 864-7. doi: 10.1111/j.1442-9071.2009.02190.x.
7. McKercher B, Law R, Weber K, Song H, Hsu C (2007). Why referees reject manuscripts. Journal of Hospitality & Tourism Research, 31(4): 455-470. doi: 10.1177/1096348007302355.
8. Pierson DJ (2004). The top 10 reasons why manuscripts are not accepted for publication. Respiratory Care, 49(10): 1246-52.
9. Mcafee RP (2010). Edifying Editing. The American Economist, 55(1): 1-8.
10. Smith MU, Wandersee JH, Cummins CL (1993). What's wrong with this manuscript?: An analysis of the reasons for rejection given by Journal of Research in Science Teaching reviewers. Journal of Research in Science Teaching, 30(2): 209-211. doi: 10.1002/tea.3660300207.
11. Ajao OG (2005). Some reasons for manuscript rejection by peer-reviewed journals. Annals of Ibadan Postgraduate Medicine, 3(2): 9-12.
12. Ali J (2010). Manuscript rejection: Causes and remedies. Journal of Young Pharmacists, 2(1): 3-6. doi: 10.4103/0975-1483.62205.