Publication Support Services for Academic, Scientific Manuscripts, Articles and Papers
Whether you are a PhD student or a senior researcher, time is a precious commodity. Getting a paper published takes months, and sometimes, even years. With our publication support services, you can consult experts for guidance at all stages of the publication process. Our expert panelists will review your paper and provide constructive comments so that you can improve your manuscript before submission to the journal of your choice. The experts will work with you to determine the most suitable journals, assist in manuscript editing before submission, carry out a technical review, and provide post-submission support wherever necessary.
Learn more about our Publication Support Service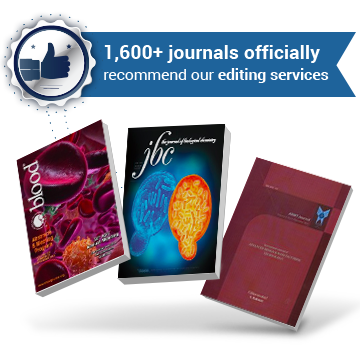 Improve your chances of journal acceptance with our publication support packs.
Platinum Pack
High-end publication support
+ rapid technical review
Gold Pack
End-to-end publication support
including resubmission
Silver Pack
Basic publication support for
manuscript submission
OR
Choose from various journal publication support services to create your own Custom Pack.
Editage complies with the highest standard of publication ethics in all its services and processes. In particular, Editage strictly follows authorship guidelines outlined by the International Council of Medical Journal Editors (ICMJE) and regularly updates the service scope as per the Committee of Publication Ethics (COPE) and International Society of Medical Publication Professionals (ISMPP) guidelines.
Read more about our ethics compliance here
End-to-End Publication Support
Editage's editorial and publication services were conceptualized to offer end-to-end support for all the research paper publication help authors would need.

Rapid Technical Review Service
Identify gaps in your study design or methodology before you submit your paper to a peer-reviewed journal. Your paper is assigned to an expert in your subject who has published and peer-reviewed papers. The service closely resembles the peer review process undertaken at high-impact journals and will maximize your chances of receiving favorable comments from your target journal.

Journal Selection Service
This service helps in scholarly publication by identifying the journals that are most suitable for your manuscript. Our expert will go over your manuscript and recommend 3 to 5 journals that are most suitable for it. You will also receive a Journal Selection Report, which will explain the expert's reasons for recommending each journal as well as share important metrics about the journal, such as acceptance rate, journal type, time to review decision, author costs, and more.

Journal Submission Service
This service was designed to help busy researchers like you sail through submission requirements. It is like having your own assistant to navigate complex journal submission systems and procedures, and help you ensure that all submission requirements are met.

Resubmission Support Service
For end-to-end research paper publication support, we offer resubmission support under the Gold and Platinum Packs. If your paper receives reviewer comments from the journal, we will check the revised manuscript to ensure it meets journal requirements, draft a new cover letter, and submit your responses and revised paper to the same journal. On the other hand, if your paper is rejected by the journal, we will submit your paper to a new target journal at a 30% discounted price of the Journal Submission fee.
Plagiarism Check Service
As a researcher, you would have read many research papers in your field. This could lead to unintentional plagiarism, and result in your target journal returning your paper to you. Use our Plagiarism Check service to identify text that overlaps with other published papers before you submit your paper to a journal.

Artwork Preparation Service
Our scientific publication services would be incomplete without helping you prepare your artwork, i.e., your diagrams, illustrations, images, graphs, and other visual elements for publication. Under the Artwork Preparation service, our designers will format/revise your artwork to meet the journal's technical requirements, while an expert editor will check your artwork for consistency and technical accuracy.
Editage offers pre-set combinations of the above services in the form of Platinum, Gold, and Silver Packs. Each pack also includes Premium Editing, an editing service designed especially for the publication of research papers. You can even make your own Custom Pack by choosing any combination of services that suits your needs best.
Frequently asked questions
About Editage
Editage was founded with the mission to increase the reach and accessibility of research. English Editing, our flagship service, offers editorial assistance to researchers, journals, universities, and research institutions around the world. Publication Support Services offer researchers end-to-end support in getting published. Translation with Editing services enable authors to write in any language of their choice—be it Korean, Turkish, Japanese, Chinese, Arabic, Spanish, or Portuguese—and publish in high-impact journals. We also offer customized research services such as literature search, statistical review, and consultation on experimental design. Research Communication services assist universities and journals to enhance the reach and impact of their publications through the use of engaging text, graphical, and audio-visual formats. Our researcher education site, Editage Insights, shares valuable content on manuscript preparation and publication for free. We also conduct on-site workshops, webinars, and courses to help researchers communicate effectively and advance in their careers.
Editage is present around the world and has offices in the US, UK, India, Japan, China, Singapore, and South Korea.