English Sentence Correction and Grammar Check Services
English Grammar and Sentence Correction Services
English Language Check
English Grammar and English Sentence Correction Services
If you are an author looking to publish your work, you will want to ensure that it presents your thoughts clearly and is free from embarrassing errors. Editage's high-quality English editing services do just that. Our professional editors are proficient in checking all kinds of grammar and language issues. We will not only correct the glaring errors in your words and sentences, like any English correction service, but also identify and resolve the deeper flaws in your text that can potentially dilute its impact.
Typographical & grammatical errors
Incorrect terminology
Incorrect transitions
Dangling modifiers
Contradictions
Awkward sentence constructions
Word choice errors
Parallelism issues
Unclear antecedents
Inconsistencies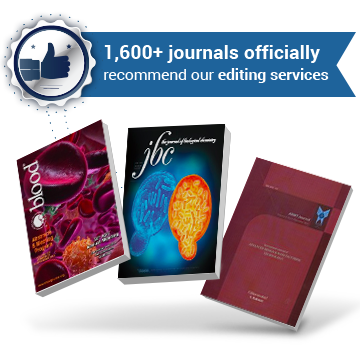 We have 2000+ native English-speaking editors covering more than 1200 subject areas, and will assign your manuscript to an expert from your field. Our editors have considerable experience in working with authors for whom English is a second language, and will ensure that your writing is clear, readable, and conveys exactly what you intended. If you are a researcher wanting to publish your paper in a high-impact journal, Editage is the perfect choice for you. Read on to know more.