Join Editage Insights in celebrating Peer Review Week 2016
---
Peer Review Week is a global event that aims to celebrate the peer review process and focus on those involved in reviewing activity at various levels: journal publishing, research grants, promotion and tenure committees, conferences submissions, and so on. The theme of this year's event—which will run from September 19-25, 2016—is Recognition for Review. This theme is aligned with current discussions and debates in the scholarly publishing community about the need to recognize, reward, or incentivize peer reviewers for their services.
Editage Insights and Peer Review Week 2016
At Editage Insights, we understand and appreciate the role peer review plays in the dissemination of scientific findings, and we are proud to support and participate in Peer Review Week 2016. Here is what we will be doing during the week:
Editage Insights resources on the Peer Review Week website: Access our peer review related resources from the Reviewer Resources section on the Peer Review Week website. Here's a snapshot to help you identify them:

Free webinar for peer reviewers: We are hosting a free webinar for peer reviewers to help them understand how reviews can be made more meaningful and sensitive for authors. If you are a peer reviewer or an editor, this webinar is for you!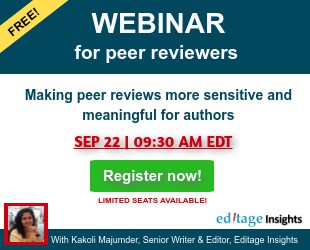 Exclusive quotes from authors and industry experts: To understand the views of industry experts and authors, we asked them to share their thoughts about peer review and recognition of review and will share their messages during the week. In addition, we will publish thought-provoking posts and a compelling video about peer review.
Join or follow the event: Peer Review Week is free and open to all. Here's how you can join:
More about Peer Review Week: Last year, a group of organizations came together to set up a global event that would focus on peer review and enable sustained discussions about it. This is the second year of Peer Review Week and the organizing committee includes a number of publishers, organizations, and institutions such as ORCID, ScienceOpen, PRE (Peer Review Evaluation), Sense About Science, Wiley, Springer Nature, and the Committee on Publication Ethics (COPE).
What are you waiting for? Join Peer Review Week 2016 now!
Published on: Sep 19, 2016
Comments
You're looking to give wings to your academic career and publication journey. We like that!
Why don't we give you complete access! Create a free account and get unlimited access to all resources & a vibrant researcher community.