Editage attends the 3rd biennial conference of the Indian Academy of Management
---
Nitin Nair, Managing Editor, Center of Excellence for Business and Finance, had a memorable experience at the third biennial conference of the Indian Academy of Management (IAM) in Ahmedabad, India, December 12-14, 2013. The conference was held at the prestigious Indian Institute of Management, Ahmedabad (IIM A), which is the leading business school in the country, with attendees including journal editors, peer reviewers, professors, researchers, and doctoral students. The theme for the conference was 'Rethinking Management Theory & Practice in the Present Indian Economic Context.'
The IAM is an affiliate society of the Academy of Management (AoM), one of the most prominent academic societies in the field of business and management. Established in 1936, AoM has approximately 19,000 members worldwide and publishes several prestigious management journals, including the reputable Academy of Management Journal (AMJ), with an impact factor of 5.91.
Day 1
The conference kicked off with a fantastic workshop on doing meta-analysis, where Professor Richter1 discussed the uses and methodology of meta-analysis, its benefits to young researchers, and how it furthers the democratization of research.
This was followed by a workshop on reflexive and creative methodology, where Professor Alvesson2 with his unique sense of humor urged researchers to be more creative and imaginative, identify and challenge assumptions, and create and solve mysteries.
The concluding workshop for the first day was a session3 on addressing weaknesses in conference submissions, aimed at helping junior researchers avoid basic mistakes that would lead to rejection.
 Professor Alvesson2 delivered a Keynote speech on the triumph of emptiness, grandiosity, and zero sum games in contemporary business organizations.
The IAM lifetime achievement award was presented to Professor Pradip Khandwalla (former director of IIM A).
The first day ended with a cultural event – a solo contemporary Indian dance performance by Shri Astad Deboo.
Day 2
The second day of the conference was devoted to presentations by various doctoral students and began with a session chaired by Professor Mathur4 that included presentations on
a. the role of governance in the relocation of urban slums,
b. the long term positive impact on poverty reduction through asset building using microfinance,
c. using public private partnerships for better marketing and commercialization of cord blood stem cell preservation.
Professor Nadkarni5 delivered a Keynote speech on the existing state of research on strategic leadership and the impact of executives on organizational outcomes.
Professor Contractor6 used the analogy of professional sports teams to explain the importance of putting together the right team to achieve strategic goals through positive network effects in his Keynote speech.
The second half of the day began with a session chaired by Professor Bhagavatula7 on the effects of social networks that included presentations on
a. profile creation and usage on social networking sites,
b. the evolution of networks,
c. constructing professional resource networks.
This was followed by a session chaired by Professor Kundu8 that included presentations on
a. the effect of ownership in the innovation-internationalization relationship with a focus on the Indian pharmaceutical sector,
b. business group heterogeneity and the internationalization-performance relationship.
Professor Tjosvold9 delivered a Keynote speech on the impact of Asian values on managing constructive conflict and controversy.
The proceedings for the second day ended with a heritage walk in the historic old city of Ahmedabad.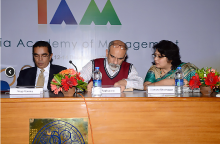 Day 3
The final day began with a Keynote speech by Professor Varman10 on marketing thought being subject to hegemony that challenges inclusivity. He questioned the apparent disconnect between businesses serving the 'bottom of the pyramid' and poverty alleviation.
Professor Fry11 delivered a Keynote speech on re-thinking change in human systems and welcoming the recent strengths revolution as managers have complete control only on their gestures and at best can only influence the responses they receive.
Professor Kannan-Narasimhan12 chaired a symposium on scaling organizational ingenuity to systematic innovation by making it less dependent on individuals with more emphasis on scientific and engineering based processes. The participants discussed business case studies on innovation, poverty alleviation initiatives, and innovation in affordable housing.
A symposium13 on Indian companies going global provided the audience with a perspective from both industry and academia with memorable quotes by Vikram Bector ("those who can – do, those who know how to – teach") and Professor Ramnarayan ("leadership is necessary when logic is not the answer").
The last workshop was chaired by Professor Krishnan14 and discussed the role of the environment, top management teams, and entry modes in strategy formulation.
The conference concluded with valedictory comments by Professor Neharika Vohra (IIM Ahmedabad) and IIM Lucknow was announced as the host of the fourth biennial conference of the IAM to be held in December 2015.
References
1. Professor Ansgar Richter (University of Liverpool Management School, UK)
2. Professor Mats Alvesson (Lund University, Sweden)
3. Professor Pawan Budhwar (Aston Business School, UK), Professor Naresh Khatri (University of Missouri, USA), and Professor Aarti Ramaswami (ESSEC Business School, France)
4. Professor Navdeep Mathur (IIM Ahmedabad)
5. Professor Sucheta Nadkarni (LeBow College of Business, Drexel University, USA)
6. Professor Noshir Contractor (Kellogg School of Management, Northwestern University, USA)
7. Professor Suresh Bhagavatula (IIM Bangalore)
8. Professor Sumit Kundu (Florida International University, USA)
9. Professor Dean Tjosvold (Hong Kong Institute of Business Studies)
10. Professor Rohit Varman (IIM Calcutta)
11. Professor Ronald Fry (Weatherhead School of Management, Case Western Reserve University, USA)
12. Professor Rangapriya Kannan-Narasimhan (University of San Diego)
13. Rajiv Gulati (Ranbaxy), Vikram Bector (Tata Motors), S. Ramnarayan (ISB Hyderabad), Charles Dhanraj (Kelley School of Business), and Shruti Sharma (IIM Ahmedabad)
14. Professor Rishikesha Krishnan (IIM Bangalore)
Published on: Jan 14, 2014
Comments
You're looking to give wings to your academic career and publication journey. We like that!
Why don't we give you complete access! Create a free account and get unlimited access to all resources & a vibrant researcher community.