Your Research. Your Life. Your Story.
A magnetic community of researchers bound by their stories
Every researcher has a story. What's yours?
Student life is rather vibrant in the university town of Cambridge
---
I've wanted to post something for a while, but I wasn't sure where to start. And I'm still not really sure, hence this opening sentence.
So, I guess I'll start where I left off.
Packing.
Eh... no, we can skip over that.
Arriving at Cambridge.
I arrived at Cambridge exactly one month ago on September 26 to move in to a small row house with three other students. My room is basically the same size as my dorm room at U-Chicago, except now with a bonus wheelie chair and added storage space! There is also a shared kitchen space and bathroom, and other communal areas include the stairs and the landings.
It's a comfortable space that backs out to the backs of a few cafes, and occasionally I will hear cooks shouting (maybe, just talking?) at each other in Italian during their breaks. Well, that and the routine disposal of glass bottles.
Among the four of us living in the house, we cover three continents and four countries: the US, UK, Greece, and Chile. The College with which I am affiliated, Magdalene College (pronounced almost pretentiously as the French Maudalene), is also quite international, as is the general graduate student body. There are students from everywhere in Magdalene: US, New Zealand, South Africa, Germany, Spain, Brazil, Malaysia, China, Switzerland, Pakistan, and yes, a few from the UK.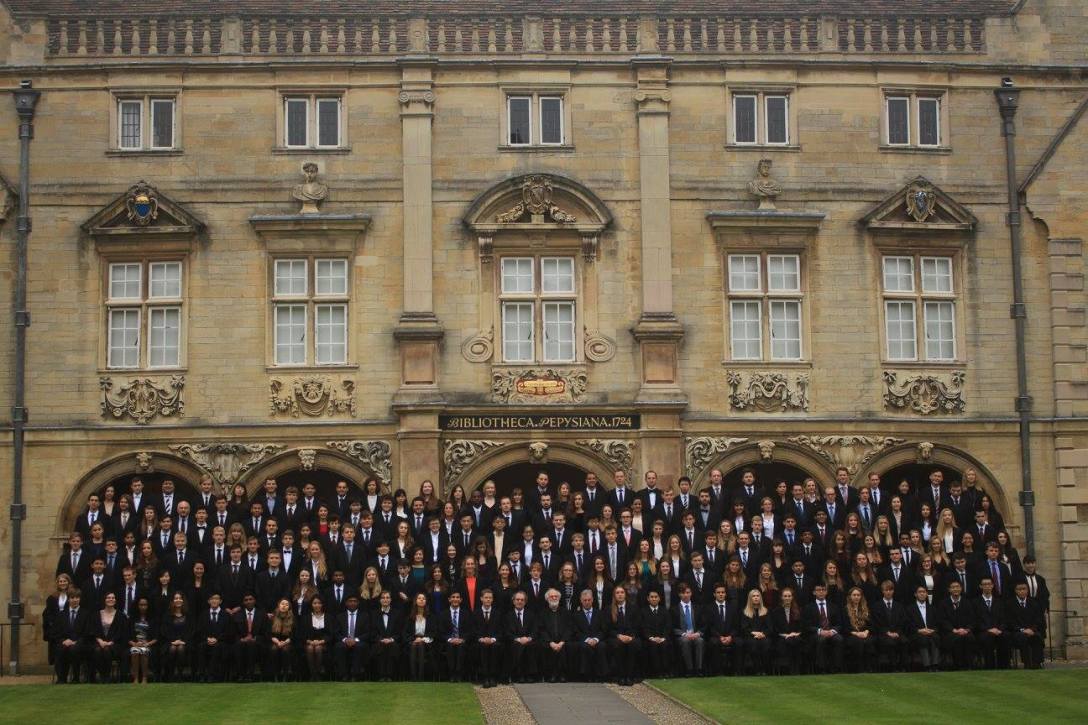 Magdalene's matriculating undergraduate and graduate students. It's ok, don't try to find me, just know I am one of the blurred faces (Bonus points if you do find me).

Cambridge has 31 colleges, each of which houses a small number of students like in Magdalene or a very large number like in St John's. The most famous are King's College and Trinity College, known for their beautiful architecture. Magdalene was founded sometime in the 1500s (when it's that far back, why bother with exact dates?) as a hostel for monks near the river Cam, as our Master, Rowan Williams (fun fact: the former Archbishop of Canterbury who married Prince William and Kate), said to "keep the monks on the other side of the river away from the evil of the undergraduates." It was closed down and then re-opened for students a hundred or two hundred years later. Now, in 2015, I live there and am doing laundry as I write.
My program is a one-year MPhil in Middle East Studies by research. There are only four other MPhil students in my program and several PhD students, which facilitates discussing research and common interests. This means that classes are not required, but I can sit in on any lecture that may be helpful for my work. By August 12, 2016 I need to turn in my 25000-word dissertation. I have until then to spend my life in the library. But I won't. Not only is my research on a contemporary topic, which will allow me the luxury of using online sources and journals, but I also don't want to spend my entire year in the library.
Student life is rather vibrant in this university town. Punting is the first activity I observed while going to pick up my room key. It's an age-old tradition, as is everything here. Rowing is also huge. Social drinking at pubs or just during your evening stroll is quite common.
And now I sound like Rick Steves.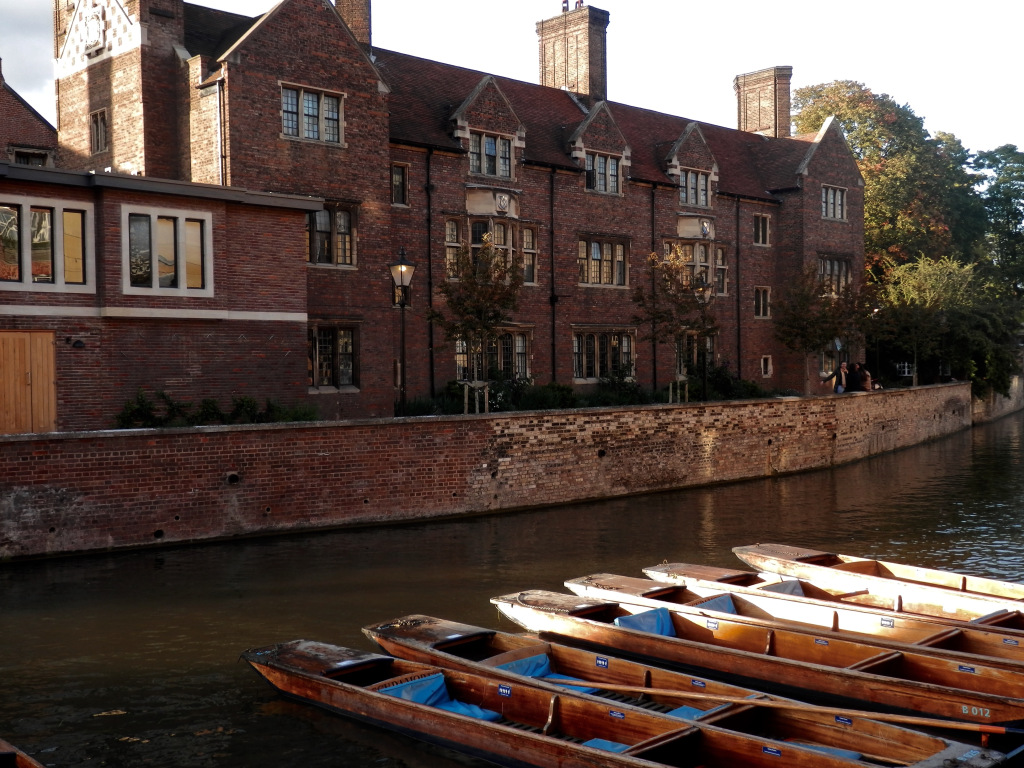 Magdalene College along the River Cam

My favorite part of student life, besides the fact that there are so many organizations, is that I am always meeting someone new. As a grad student, I feel that socializing comes with a bit less anxiety than it did in my first year of college, and everyone is always interested and interesting.
There have been a lot of events my first week to meet the other graduate "freshers" like me, most recently at our matriculation dinner. The dinner took place in our formal hall (so epically called "Hall") for all the new graduate students in the College. Wearing our academic gowns was mandatory, and the only form of light present in the hall was candlelight, and so it was an experience straight out of Harry Potter and also very dark. Seating was arranged by department, and once I had groped my way to my seat, I met a professor from my department who has done similar work on national identity. We had a really meaningful conversation about my research and then had a really great conversation about non-research things. We are the only two from Middle East studies affiliated with Magdalene, so everyone else at the table was an engineer. Conversations with them usually proceeded as follows:
Me: So what kind of engineering do you do?
Engineer: Aerodynamics!
Me: I know some of those words.
Engineer: So I'm basically looking at how something-something-something… science… something-science… science-math-something… and the something-lab-something-science will take me three years.
And so on. As for the actual meal, it was of course quite fancy. The duck was rather… chewy… and the dessert was delicious, but the best part was after it had ended and we just stayed and talked and grew sleepy in the warm, low-lit hall.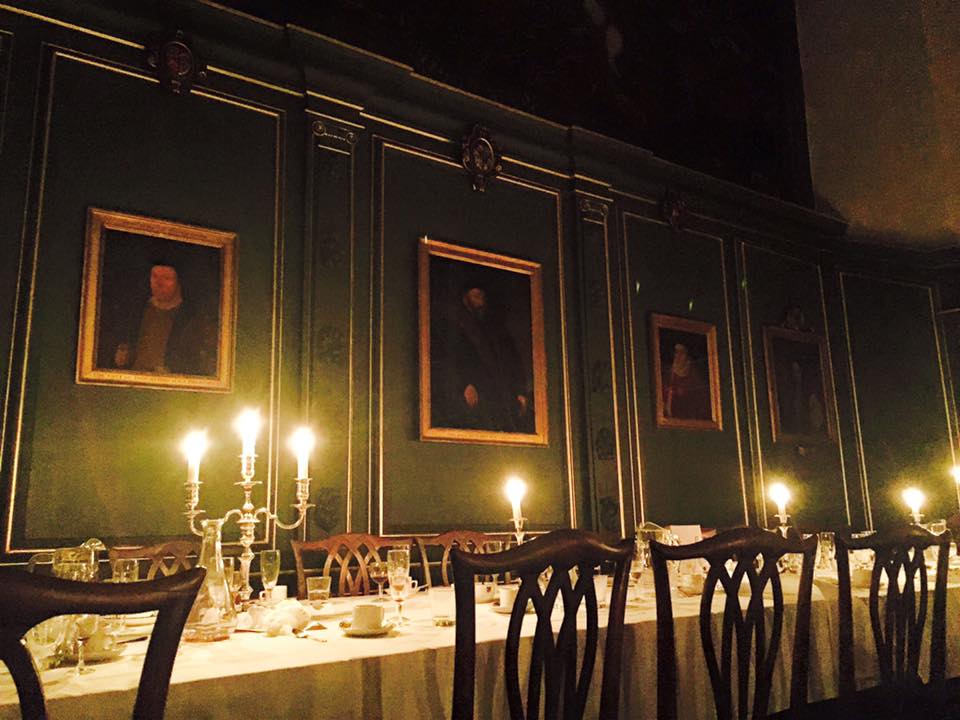 Welcome to Hogwarts. I mean, "Hall."

I have adjusted quite a bit to the new ways of doing things, which is part of the reason I like to travel. It is a challenge sometimes, but I believe that every time I do travel, my comfort zone gets a bit bigger and my understanding of the world ever so slightly increases.
I've been asking a lot of queries, and standing in queues, and standing in queues to ask queries. As I continue to figure things out and get more into my research, I will post many more updates.
For now, my laundry is done, and it is time for me to head back home through the sidewalk full of tourists, with my ginormous bag of laundry and photobomb as many pictures as I can.
---
Melissa Gatter (@melgatter) is a PhD candidate at the University of Cambridge. This story was published on October 26, 2015, on Melissa's blog, The World Behind the Curtain (available here), and has been republished here with her permission.
Comments
You're looking to give wings to your academic career and publication journey. We like that!
Why don't we give you complete access! Create a free account and get unlimited access to all resources & a vibrant researcher community.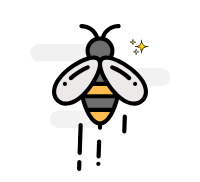 ---
Your Research. Your Life. Your Story.
A magnetic community of researchers bound by their stories
---