Tips for effective literature searching and keeping up with new publications
---
Editorial note: You can download the ebook version of this article at the end of the page.
The volume of publication output has exploded. You cannot rule out the possibility that your research topic has already been addressed in a recently published paper.
One of the most frequent reasons for rejection by journals is that the study is a duplication of work that's already been published. It is important to keep up with published works in your field and use a structured search strategy to make sure you don't overlook similar publications.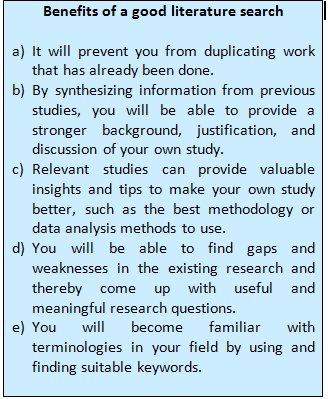 Basic search strategies for discovery of literature:
Define your keywords
It is very important to use targeted keywords. Break up the topic you are researching into its main concepts, then define keywords for each concept. Next, expand the list by writing down synonyms and alternative phrasings for each keyword. Also, use terms that you plan to include in your own manuscript; this will indicate how relevant those terms are in the field or whether you should use more precise terms to define your concepts.
Checklist for defining keywords
What alternative vocabulary is used in discussion of my topic?

Are there American and British variants of spelling or vocabulary?

Can I identify a word-stem for truncation? E.g., child$ to find child, children, or childish.

Are common abbreviations, acronyms or formulae used?

What specific cases or examples am I interested in?

What more general terms might include my topic?

Are there categories I'd like to exclude?
Start your search
You might need to search several academic databases to make sure you've covered all bases. Since each database has unique sources for obtaining data and unique processes for deciding which journal articles to index, limiting your search to only one database may cause you to overlook relevant articles. For example, if you restrict your search to Elsevier's Science Direct, you are very likely to miss relevant publications, since this database mostly indexes journals published by Elsevier. 
Sources for searching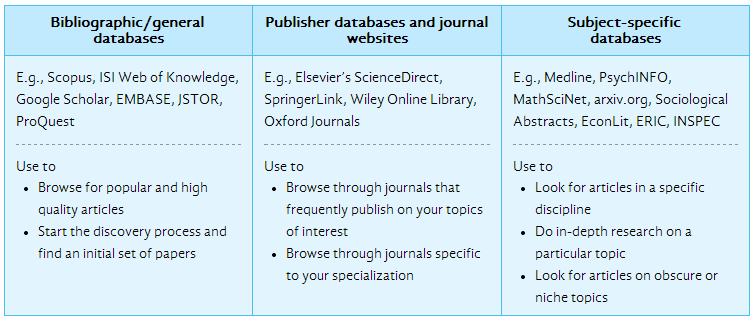 Follow the citations
Once you have identified some relevant journal articles, an easy way to find more studies is by looking through the reference lists of these articles (backward searching). The reference studies are likely to be quite relevant for you as well. In addition, look at the papers that have cited the articles since they were published (forward searching). This will help you find the newer studies that have built upon the work. 

Keep a written record of your searches
Note down the names of journals that you come across often during your searches. Over time, you will get a good idea of which journals are most prominent in your field and which journals you should consider publishing in. In addition, keep a list of the keywords and keyword combinations that return the best results. This will not only reduce the time taken for future searches but also yield a list of terminologies that are common in your field.

Use a references manager
With the huge number of studies you will probably have to sift through and track, manual compilation of references is no longer an option. Use a reference manager like Endnote (purchase required) or Zotero (free). Reference managers allow you to download and save papers in your computer's library directly from journal websites with just one button click. They also make it very easy to organize your library and compile reference lists. Although these programs may be difficult to use initially, skimming through their help manual or video tutorial along with a few days of learning through trial and error are all that's required to become comfortable with them. In case you find yourself too busy, you can also take help from professional publication services, for example, Editage's Literature Search Service. 
Keeping up with literature 

A large number of databases and publishers provide one or more of the following alerts features: Table-of-Contents (TOC) alerts, citation alerts, and keyword alerts. These alerts are very useful for keeping up with newly published papers and research topics. With many alert services, you receive alerts in the form of emails listing the title and authors of newly published papers, and sometimes even abstracts. 
 
How to keep up with new publications through alerts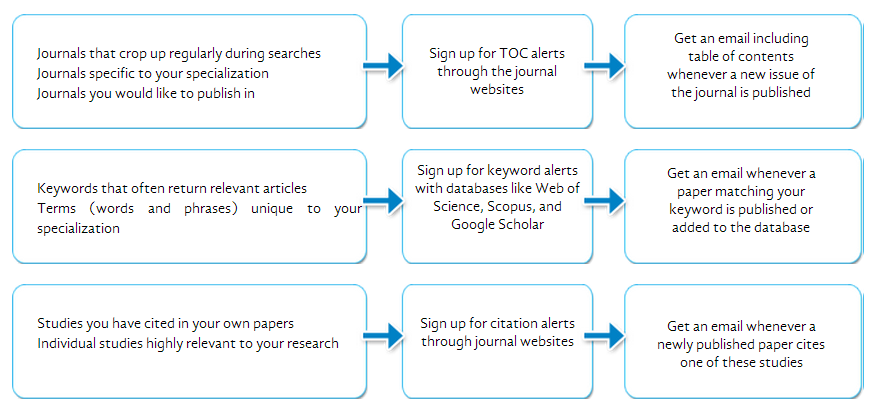 Books can be a useful starting point in your research. They can provide you a general overview of your topic (especially if you're just beginning your research career). There's also another valuable source of information. Grey literature consists of information that is not easily searchable through conventional search engines, databases, and library catalogues. Grey literature searches can yield valuable information indicating current hot topics for research.

Conference proceedings can provide the latest findings and discussions on the topic you're studying and give you clues on forthcoming papers that may be published. Unpublished clinical trials will inform you of trials already undertaken and their results. Theses, dissertations, and working papers can alert you to similar work being undertaken by other researchers. A note of caution: you do need to be extra careful when citing grey literature in your paper. Make sure that the scientific quality of the study you are citing can stand up to scrutiny. 
A guidebook on effective literature searches.pdf
Published on: Nov 04, 2013
An editor at heart and perfectionist by disposition, providing solutions for journals, publishers, and universities in areas like alt-text writing and publication consultancy.
See more from Marisha Fonseca
Comments
You're looking to give wings to your academic career and publication journey. We like that!
Why don't we give you complete access! Create a free account and get unlimited access to all resources & a vibrant researcher community.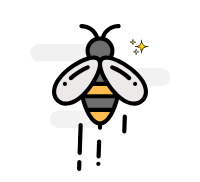 ---
Subscribe to Conducting Research
Conducting research is the first and most exciting step in a researcher's journey. If you are currently in this stage of your publishing journey, subscribe & learn about best practices to sail through this stage and set yourself up for successful publication.
---