April, 2017
Editage contributes to the success of the 2nd Asian-Pacific conference organized by ISMTE
(April 13, 2017; Shanghai, China) The 2nd Annual Asian-Pacific conference organized by the International Society of Managing and Technical Editors (ISMTE) on March 27 and 28, 2017 in Beijing was a huge success with over 130 attendees representing the interests of journals and publishers from Australasia, Europe, and North America. Editage is proud to have co-sponsored the conference that contributed significantly to interaction and information sharing between editorial offices from the east and the west. In addition to exhibiting at a booth, Editage sponsored the official group photograph for the 2nd Asian-Pacific conference and participated in some important sessions. With the Asia-Pacific region becoming an increasingly prominent contributor to global research, the timing of ISMTE's Asia-Pacific conference, symbolizing collaboration in scholarly publication, could not have been better.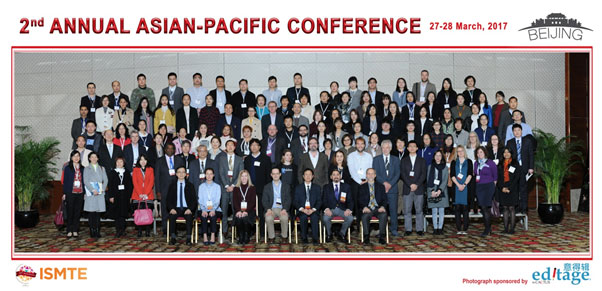 Donald Samulack, President U.S. Operations, Editage, moderated the session on 'The Direction of Chinese Publishing - Mandates and Vision of Internationalization'. The esteemed panel included some stalwarts of Chinese publishing namely Dr. Yan Shuai - Associate Editor-in-Chief, Tsinghua University Press, and President of China Society of University Journals, Dr. Shengli Ren - Vice President & Secretary General, China Editology Society for Science Periodicals (CESSP) and Science Editor at the Science Communication Center of the National Natural Science Foundation of China (NSFC), and Mr. Hong Xiao, Vice General Manager & Deputy Editor-in-Chief, China Academic Journal Electronic Publishing House Co. Ltd. (CNKI). This captivating session discussed China's publishing history and the direction that the publishing industry is taking in the future.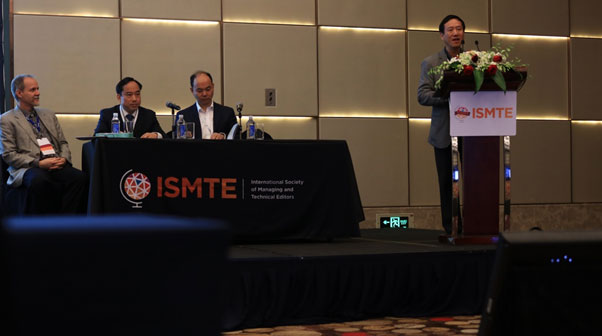 Dr. Samulack also moderated and presented in a session on 'Scrutinizing the manuscript – is it acceptable for publication?' along with Ms. Helen Zhang, Managing Editor of the Journals of Zhejiang University (SCIENCE A/B and FITEE) and Journal Director of Zhejiang University Press. In addition to addressing some irresponsible publication practices perpetrated by predatory journals and unethical publication services, this session highlighted best editorial practices to identify manuscript irregularities with respect to authorship, sale of manuscripts, peer reviewer fraud, plagiarism, duplicate publication, image manipulation, self-citation, and other forms of unethical publication practices.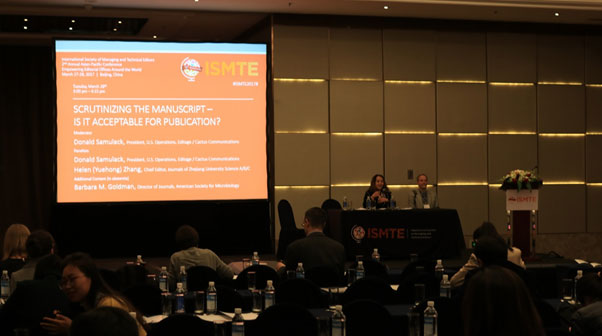 In recent times, competition has intensified in all fields including scholarly publication. With irresponsible publication practices on the rise, it is essential for journals and publishers from all over the world to interact openly and share information with another. Editage is proud to have been involved in the success of such an important conference that aims to foster camaraderie and increase collaboration between eastern and western publishers. Editage has also been very active in author education through workshops and webinars in China.
About ISMTE
ISMTE aims to connect the community of professionals committed to the peer review and publication of academic and scholarly journals. ISMTE provides peer-to-peer networking, education and training, research and resources for best practices, and development of journal policy. ISMTE serves the journal's editorial staff, which is a unique niche within the academic, scientific, medical, technical, and professional publishing industry. ISMTE connects professionals in the industry through their newsletter, discussion forum, online resources, and meetings. Please visit www.ismte.org for details.
About Editage
Founded in 2002, Editage (a division of Cactus Communications) is a fully integrated, global scholarly communications company with offices in Japan, South Korea, India, China, and the United States. Employing a global workforce of over 600, Editage has served 193,930 authors and has edited 741,310 papers across 1,200 disciplines to date. Editage aims to help scholars break through the confines of geography and language, bridge the gap between authors and peer-reviewed journals, and accelerate the process of publishing high-quality research. Apart from working with individual researchers, Editage partners with publishers, journals, academic societies, and pharmaceutical companies worldwide to assist them in creating compelling, high-quality scientific publications. Editage is also dedicated to author education through its comprehensive author resources site Editage Insights. Please visit www.editage.com to learn more.
Media contact:
Phone: +1(877)334-8243
Email: PR@cactusglobal.com  
Related Links
www.editage.com
www.ismte.org/page/2017AsianConference