5 Good Reasons to Choose Print-on-Demand Publishing
The long sleepless nights are over. Your manuscript is ready! What next?
Should you send it to some friends to read? Should you post it on your blog for the world to see? Should you send it to a publisher? Can you trust someone with your manuscript? Questions like these often baffle new authors. After all the hard work, one doesn't know what to do with the final product. This is when self-publishing comes to the rescue. Self-publishing simply refers to publishing at your own cost without the help of a publisher.
When you finally decide to transform your MS Word manuscript into a book, your next challenge is to get it published. There are many options—digital printing, offset printing, print-on-demand (POD). Which one should you choose? If you are planning to go to a publisher, then the first two would be the preferred options, particularly if you want a large print run for your book. However, if self-publishing is what you have in mind, print-on-demand (POD) comes into the picture.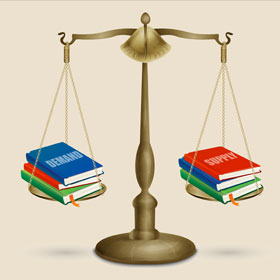 What is print-on-demand?
Print-on-demand publishing allows authors to print a very small number of books or even a single copy, whenever there is demand for it.
As Wikipedia defines POD, "print-on-demand is a printing technology and business process in which book copies are not printed until the company receives an order, allowing prints of singular or small quantities." In other words, print your books when you have the demand.
The 5 advantages of print-on-demand
1. Print anything and everything
For print-on-demand, the only thing you need is a manuscript and a few ideas. From textbooks to graphic novels to children's books, any genre can be published with print-on-demand technology. With the self-publishing industry booming, the print-on-demand business is also developing, at a very fast pace. This simple and easy method now allows you to publish any kind of manuscript, in any size, in color or black and white, with photographs or illustrations—everything! You just need to imagine how you want your book to look, and it will be done.
2. Choose from a variety of book formats
You want a hard-bound pocket-size book in all color on a crisp off-white paper—is that too much to ask? Well, no. Print-on-demand makes it happen. You can choose to print your book in premium color, all-color, two-color, four-color, black and white—the choices are numerous. What about size? Depending on your content, you can choose the trim size of your book. It can be small, something that can be held in the hand; or long and slim, like a handbook that can be easily carried; or a biggish hard-bound coffee-table book, which you can display at home. You can also decide between paperback, paperback with flaps, hardback, hardback without jacket, and so on.
3. Never go out of stock
One or a thousand—you can publish as many or as few books as you want. Often, we are not so sure as to how "great" the demand for our book will be—it could be a hundred or even a thousand copies. As they say, testing the waters, this is what print-on-demand does for your book. It checks whether there is enough demand and helps you decide whether you want to publish more copies. Let's assume you decide to publish twenty copies using print-on-demand services. All your friends have been waiting for the book to arrive. When the copies are finally printed, your friends purchase most of them, leaving you with just two copies. Now what? Print more copies. The files are ready; an order needs to be placed with the self-publishing company, and the books can be printed in a week or even less. On the other hand, in case the book does not sell as many copies, then you won't feel so bad because you only printed twenty copies.
4. Update your book anytime
Another important advantage of print-on-demand is that you get to update information—at any stage and any number of times. Let's say after your book has sold a hundred copies, you discover a grave error in your book—some missing detail, or a new development in your research. This is the best time to update your book. In fact, it is always a good idea to publish a small number, so that you can get some feedback and make the necessary amendments before you go ahead and print a larger number. It may take some time to fix the errors, but your book will be as good as new.
5. Spend your money wisely
Only print the number of books you need. With print-on-demand, you can not only keep track of the number of copies you want to publish, but also your investment in publishing. Gone are the days when self-publishing authors would set aside big sums of money in order to pay for large print runs. Now, a small budget can take you far. You just need to plan how you want to spend your money. If you want to focus on the design of your book and get professional editing, then you can optimize your costs by printing fewer copies. Similarly, if you want a regular black and white book instead of a color book, you can divert more funds to printing more copies. The best part about using print-on-demand is that you don't need to break the bank. You publish as per your budget.
Print-on-demand is the most efficient and convenient method of publishing. It has taken over the publishing world and most authors—especially first-time, indie authors—are using on-demand book printing to publish their works. Because of its flexibility, print-on-demand has become the preferred choice for many professional authors as well.
Your manuscript is your most valuable creation. Hence, getting complete control and seeing your book go through the entire publishing process can be the best feeling ever. Publish your work the way you dreamt it to be—you wrote it, you decide how it should be made.