A visual approach to research visibility
---
The number of research papers published annually is growing and growing. According to a 2016 article from D-Lib Mag, the publication volume increased from <1 million in 1980 to >7 million in 2014. Considering this exponential growth, investing in the visibility of your work seems to be a wise decision.
Accessibility and visibility increase the chance of your findings being noticed. Your visibility in the academic community increases when you engage in and extend your academic work.
As researchers engage in scholarly discourse, using a variety of tools and approaches.  In recent years, researchers have begun to promote their work at every stage of study, including data collection, interpretation, and publication of findings.
The best way to make high-quality research discoverable is by making it more accessible for everyone to read and understand. And the use of visuals is one of the best resources to make that happen, increasing the amount of citations and the research visibility itself. Visibility is an important aspect that researchers should take into account, as we will discuss in this article.
What is research visibility?
Research visibility is about your work being visible within and outside of the scientific community. In other words, being relevant and useful. You should have in mind that choosing the right places to promote your findings influences the research's visibility.
One good example is publishing your research paper in international journals and in scientific scholarly publications so that it can be read and found by people from all over the world.
Three factors that determine an article's visibility are: its accessibility, its frequency of citation, and who cites it. All three of them are considered in Altmetrics, an acronym for alternative metrics, donuts, and scores, that evaluates the impact of research. Authors of books and journals can use Altmetric to see how much traction their work is receiving online.
This image represents an Altmetric score donut. To learn more about it, check Mind the Graph's Altmetric blog article.
Research departments or researchers may want to increase their research's visibility for many reasons. Achieving more readership and citations for a publication can have a positive impact on its academic reputation.
The importance of visual communication in research
Since the world does not have a universal language, using only words can make it hard to communicate your message clearly and effectively. You can easily overcome the language barrier by incorporating visuals to your work.
Due to the growing importance of visual communications in the research papers' publishing process, effective visual design and usage is becoming more and more imperative. There are even some journals that require Graphical Abstracts as mandatory in the publishing process.
Through the use of infographics, illustrations and other scientific visual assets it is possible to enable the reader's interaction with complex concepts and make important data more memorable. The visual communicator uses color, font, animations, graphics, and images to create and manage informational, educational, persuasive, and entertaining visuals.
With thoughtful and strategic execution, visual communication and graphic design can enhance the involvement and accessibility for the diverse group of people.
How visual communication can improve research visibility
The goal of visual communication is to communicate knowledge in a comprehensible format by combining data visualization and graphic design. Furthermore, it uses multiple formats to reach audiences and various visual elements to tell a coherent theme.
Insights and understanding can be gained instantly and effectively through visualization. Even without actively engaging in the visual experience, certain elements can be processed, such as the form, color, and visual configuration. In this way, researchers can communicate complicated, contemporary issues in a more memorable way by using visually appealing and engaging material.  When you want to reach many people at the same time, visual content can help you convey information quickly.
According to a study conducted by Cactus Communications in 2022, research papers published in Academy of Management that had infographics have 1.5 x more articles downloads, 1.3 x higher altmetric score, 8 x more shares on social media, and also are 27 x more often cited 6.5 x more memorable, in addition to many other benefits you can check below.
Interactive data visualizations and infographics can be very useful tools for reaching both academic and non-academic audiences with your research. The use of graphic design in infographics is aimed at conveying quick facts without diluting evidence. A viewer can be spurred into taking an active role in finding out more about the topic.
With today's digital age, visuals and graphics make information more accessible, which in turn increases global visibility of the research. To ensure that the key message is absorbed and retained, information graphics should be designed to make it easy to interpret the content.
To ensure your infographics and visuals are well taken care of, there are many tools available online like Mind the Graph.
Comments
You're looking to give wings to your academic career and publication journey. We like that!
Why don't we give you complete access! Create a free account and get unlimited access to all resources & a vibrant researcher community.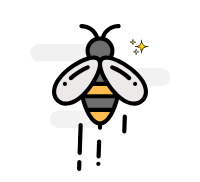 ---
Subscribe to Manuscript Writing
Translate your research into a publication-worthy manuscript by understanding the nuances of academic writing. Subscribe and get curated reads that will help you write an excellent manuscript.
---