Have you considered non-governmental organizations for research funds?
---
Nongovernmental organizations (NGOs) tend to have less red tape with research funding – unlike government agencies as discussed in the previous post. This makes for a less taxing process overall in which inquiring about funding options, applying, and submitting reports is simpler. Depending on your field of study and organization, less rules and formalities can mean more flexibility in your research work. Particularly, institutes with an academic mission to advance and disseminate knowledge in a certain field avoid pressuring researchers to produce.  Rather, they promote a fruitful environment for research growth by providing resources and freedom to pursue knowledge purely.
A variety of NGO funders – from well- to lesser-known organizations – offer research support across disciplines that align with diverse goals and missions. Therefore, an exploratory mindset will help to identify potential funders. Who better than a researcher to amass and filter information creatively! NGO sources can include museums as well as institutes and foundations: Examples are Fulbright, ASEAN-partnered initiatives, Metropolitan Museum of Art in New York, Japan Society for the Promotion of Science, Max-Planck Gesellschaft, and CERN (all provide fellowship programs). Here are a few quick steps in locating NGOs as funders:
Create a list of organizations that relate to you both in a narrow and in a broad sense (your field of research, specific topic, NGOs affiliated with your university, etc.)
Read through different missions and visions and consider how you would fit
Think about how you could effectively position your proposal
Additional things to know
Be sure to find out the accepted norms for each funder you want to approach. For instance, some fellowships will require someone else to nominate you and may frown upon your active involvement in the application process. Others will allow you to apply directly and be in touch with the organization as questions come up during the application process. Getting in touch with a potential funder in a situation in which a nominator is required can pose a risk to your chances of being selected. Also worth noting is your involvement once you are chosen to be funded. NGOs typically have a restricted operation budget (overhead and administrative costs to support the main cause of the organization, which are programs) to allow more spending for programs (e.g., fellowship support). In an effort to stretch an organization's dollars, ambitious programs are conceptualized, executed, and advocated for by a limited staff. This typically leads to an intense workload for the number of staff members. As a result, you may be called on to help inform, engage, or influence stakeholders, for example, through delivering presentations at events or participating in round-table discussions.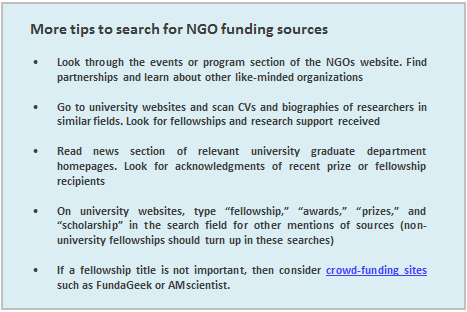 Published on: Jan 31, 2014
Alagi combines her knowledge and enthusiasm for writing to produce content that will help researchers and publishing professionals globally.
See more from Alagi Patel
Comments
You're looking to give wings to your academic career and publication journey. We like that!
Why don't we give you complete access! Create a free account and get unlimited access to all resources & a vibrant researcher community.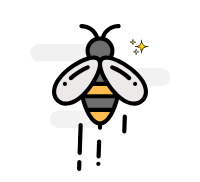 ---
Subscribe to Career Growth
Take a step toward advancing your career by learning more about getting funded, disseminating your research widely, and developing essential skills that will open new opportunities for you to succeed. Subscribe to receive curated content.
---