"Pay attention to your weaknesses and embrace any negative feedback."
---
Can you describe your career in short? How did you decide to become a professional editor?
While I worked as a general physician, because of my bilingual knowledge and scientific background, I was given the opportunity to work in a company that developed scientific documents. I started out doing quality reviews/medical editing while also learning the various steps involved in the publication process for various types of scientific disclosures. I was in charge of a project that involved the development of hundreds of high-level content slide sets for a well-known pharmaceutical company in the United States. At the same time, I worked on other medical writing assignments and also supervised the work of other writers from an editorial and medical content perspective. In 2013, I joined CACTUS as a freelance editor and have enjoyed working with the team ever since.
Tell us about your specialized subject of interest. What new developments are you eagerly following and believe are especially significant to the progress of your field?
It is difficult for me to pinpoint specific areas of interest as I have worked on and developed an interest in several therapeutic areas including Neuroscience, Cardiovascular, Urology, Endocrinology, Oncology, Gastroenterology and Hepatology, and Obstetrics and Gynecology, among others.
You are part of the Center of Excellence for Medicine at Editage, CACTUS. How does this association with an area of specialization influence your approach towards editing? What do you like most about this area of study?
Having a medical background, my exposure to different medical fields has been quite broad. This has definitely been useful for me as an editor because I feel comfortable working on several therapeutic areas.
Is there anything specific you do to provide high-quality edits across various manuscripts?
I always try to do some background reading before I start an editing assignment. This is particularly helpful when the subject is in a very specialized field of medicine.
As an editor, how do you define a good English paper? Do you have any advice for authors on how to improve their writing skills?
In scientific writing, I find that a good paper is that in which the message is conveyed in a precise and concise manner. As for my advice to authors, I think that reading previously published papers from well-respected journals can be helpful in providing a general idea on how to convey their message.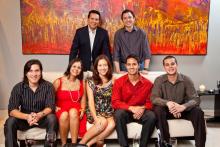 What advice would you give to editors on how to sustain their interest in editing and provide the client with high-quality work?
There is always room for improvement. Pay attention to your weaknesses and embrace any negative feedback, as that is where the opportunity lies to become a better editor.
Would you like to share any memorable experience you've had when providing expert advice to our clients/editing their manuscripts?
My most memorable experiences have been receiving positive comments from the clients in regards to my inputs on the content. I find those situations particularly satisfactory since it is always encouraging when you know that the client is grateful and appreciates your suggestions.
Please tell us more about yourself; what are your hobbies or activities you enjoy when you are not working?
I love cooking, playing the piano/drums, and painting/drawing in my free time.
A few words for our clients…
My biggest reward is in helping you get your message across efficiently. 
You're looking to give wings to your academic career and publication journey. We like that!
Why don't we give you complete access! Create a free account and get unlimited access to all resources & a vibrant researcher community.