Your Research. Your Life. Your Story.
A magnetic community of researchers bound by their stories
Every researcher has a story. What's yours?
Are you getting your writing done, Nana
---
Note: This narrative originally appeared as a series of posts on Lorie's blog and has been republished here with her permission.
My own road to PhD proved circuitous, rocky, and unpredictable. At many times, I felt utterly alone.
An atypical grad student, I entered the PhD program as a part-timer while working full-time for my state's K-12 education agency and teaching college English courses in the evenings. I hardly had the time, but the coursework would prove a worthy distraction from the often soul-sucking work of educational bureaucracy. Face-to-face contact with writing students fed my soul. Long divorced, my nest had finally emptied when my younger son took an apartment with a friend. "Why not get our PhDs?" a younger colleague implored. Alright. Let's do this.
Eventually, I could take early retirement and become "the oldest living GRA" (at age 54, and no… not the oldest) and make the deep dive into academia. Yet, this would not ensure an easy go for the rest of my PhD journey. I could isolate myself in my assigned office and while away hours, tending to my tasks for the grant program, making little to no progress on my dissertation. I lacked adequate advisor support and became increasingly discouraged.
While wandering through a home goods store, my husband picked up three decorative freestanding letters, wooden with mosaic glass: P, H, D. Though I pooh-poohed the idea, he purchased them and placed them on the bookshelves above my desk in our home office. They became my focal point. Someday…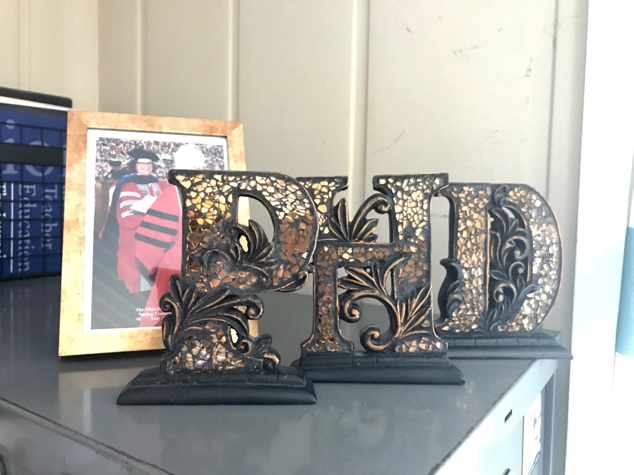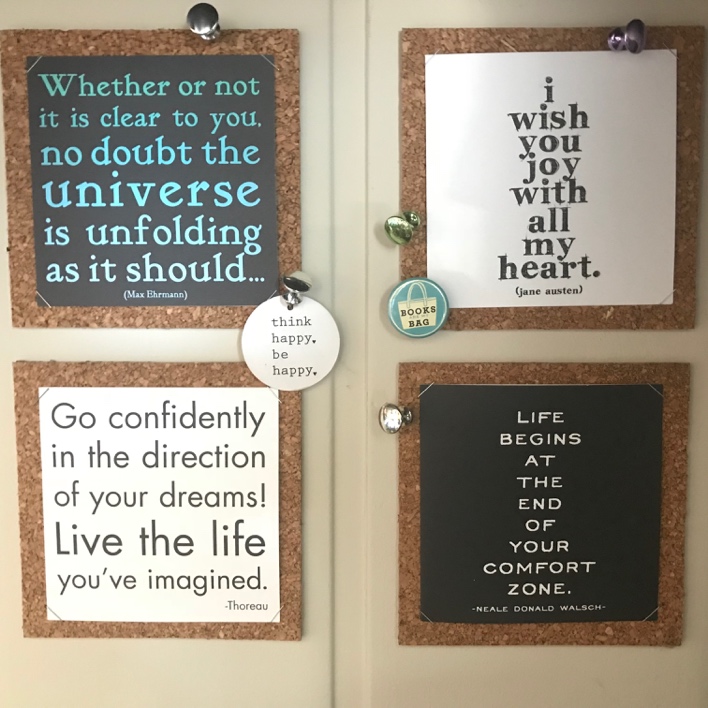 There would be further setbacks (including the failed defense), but I determined to surround myself with inspiration and affirmation. My office décor also included greeting cards and other art that screaming positivity. I set my desktop background to a photo of my then 3-month old granddaughter captioned, "Are you getting your writing done, Nana?" I wanted to ensure that my personal universe shouted out to me "You CAN do this" each and every day.
So, I did pass my second dissertation defense and currently work for three universities doing what I love: teaching writing, teaching undergrad and graduate literacy courses, coaching "dissertating" clients, and editing a refereed journal. A year after commencement, it occurred to me that I could encourage other "dissertaters" via Twitter, and @dissertating was born. I created the Twitter feed to be an affirmational presence in the lives of students pursuing their terminal degrees. It's an arduous task that begs constant support. I hope in some small way I can be that support.
I love that my followers often report in my feed that their PhD journey is complete. Our @dissertating community rises up to congratulate them. We are surely #BetterTogether.
Comments
You're looking to give wings to your academic career and publication journey. We like that!
Why don't we give you complete access! Create a free account and get unlimited access to all resources & a vibrant researcher community.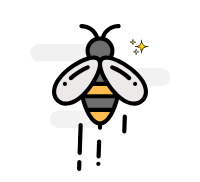 We're making improvements to this page, so you may not be able to complete this action. Please send your query to us on insights@editage.com and we will respond soon.
---
Your Research. Your Life. Your Story.
A magnetic community of researchers bound by their stories
---