Editage workshop at MS Ramaiah Medical College, Bengaluru
On February 22, 2018, I received an opportunity to represent Editage in partnership with Wolters Kluwer as a trainer and conduct a workshop on how to effectively write scientific manuscripts at the MS Ramaiah Medical College (RMC) at Bengaluru, Karnataka. RMC is a premier medical institution in Karnataka.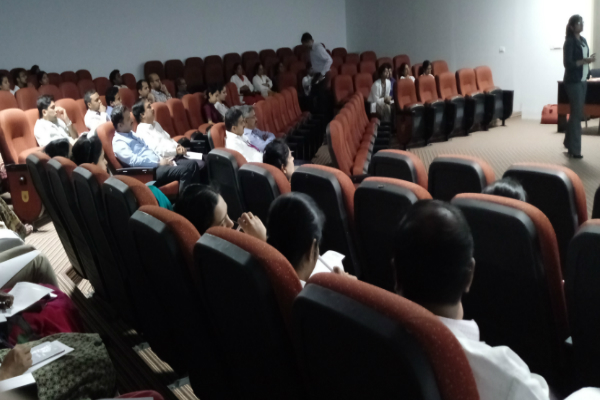 The workshop was geared towards students. However, what appealed to me and was most interesting was the presence of an equal number of medical students and senior faculty members, the latter taking time out of their busy practising schedule at MS Ramaiah Hospital to attend the lecture.
I covered topics on the basics in Scientific writing and journal selection in this presentation.  In the beginning, I discussed the IMRAD (Introduction, Methods, Results and Discussion) structure before discussing in detail each section of the manuscript. Each section was sub-divided into three sub-sections, namely, 1) "the question" to address in this section 2) pointers to effectively communicate with editors through the manuscript and, 3) what not to write in each section. I also underlined the importance of abstracts, titles and keywords in a manuscript when submitting to journals.
Publication ethics, integrity in research and authorship were other topics that I briefly touched upon to make the younger researchers aware of the importance of good publication practices. In the second half, we discussed how to select appropriate journals based on the target audience, the novelty of research and the significance of the findings.
I was asked some pertinent questions at the end of the talk. Senior faculty members wanted to understand how to contact editors in journals where they had submitted their manuscripts but had not received any response in a long time. They expressed concerns about high open-access fees and wanted clarification on who retains the copyright in open-access journals.
Surgeons and doctors also expressed their concerns on how to decide authorship. While I discussed the ICMJE guidelines regarding authorship in details, we also realized that authors needed to be aware of the policies/rules issued by the Medical Council of India.
Overall, this was an interesting learning experience for me as this was the first time I had the opportunity to meet and interact with faculty members in the field of medical sciences in India and gain insights into their publishing concerns.