Editorial and peer-review process innovations: A report from the 2017 Peer Review Congress
---
The focus of the 2017 Peer Review Congress finally shifted on Day 3 to innovations and new trends in peer review. Compared to days 1 and 2 that focused on clinical trials, day 3 was packed with discussions about other areas of scientific publishing and process-related innovations. The session on editorial and peer-review process innovations was particularly interesting. Journals presented data about the impact of process innovations implemented by them.
Malcolm Macleod from the University of Edinburgh kicked things off with his discussion on the impact of a change in the editorial process at the Nature Publishing Group (NPG) on their reporting of biomedical research. The study analyzed life science articles published in NPG journals, post the implementation of a mandatory checklist (in May 2013) that had to be completed by authors at the point of manuscript revision. The study investigated the change in the proportion of articles published before and after May 2013, reporting 4 criteria: information on randomization, blinding, sample size calculation, and exclusions. These measures were expected to reduce bias in the reporting of in vivo research. The study concluded that there was a substantial improvement in the reporting of these measures after the checklist was mandated. However, there is room for further improvement in these editorial processes.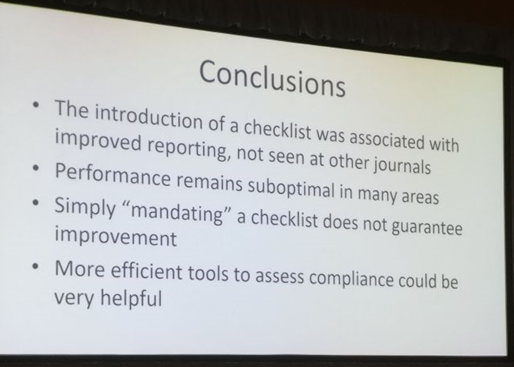 Elizabeth Seiver from PLOS was next to share the journal's assessment and experience with signed peer reviews, wherein the reviewers shared their identity with the author. The study analyzed review-signing data from PLOS One, PLOS Medicine, and PLOS Computational Biology between mid-2013 and the end of 2016. Over 450,000 reviews were analyzed of which only 7.7% were signed. The opinions of authors differed from those of reviewers and different research communities reacted differently towards review signing.
PLOS Medicine maintained a strong tradition of review-signing, whereas PLOS Computational Biology was fairly conservative about it despite their familiarity with open peer review. She concluded her presentation by encouraging other journals to adopt signed review and suggested that a direct request to reviewers from the journal would help. In addition to signing incentives, explaining benefits of signing and communicating perspectives of authors would definitely help persuade reviewers to sign peer reviews.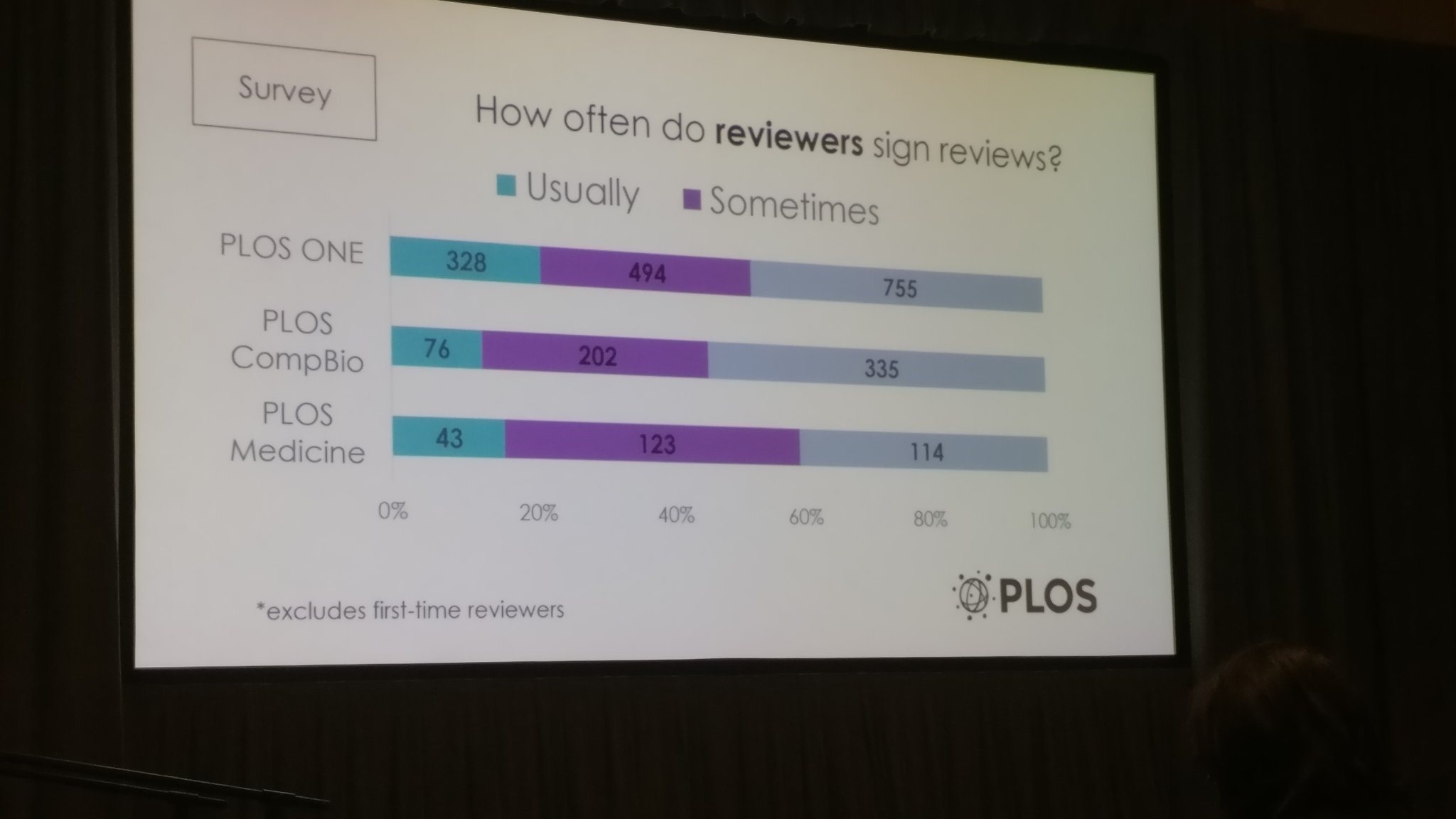 Alice Meadows from ORCID was next to take the stage. She spoke about the use of persistent identifiers (PIDs) and the use of ORCID in the peer review process. She shared early results of 2 analyses, one about the uptake of ORCID identifiers and another about the review uptake of the peer review functionality associated with ORCID identifiers. The analyses concluded that the use of PIDs varied by discipline and country for general as well as peer review activity. The initial feedback received from reviewers showed that they saw value in linking peer reviews to ORCID iDs. However, their level of understanding of such a link was very low, indicating a need to increase education and outreach. ORCID hopes to be adopted in various peer review workflows in the future and expects that this could help address all issues about recognition for reviewers.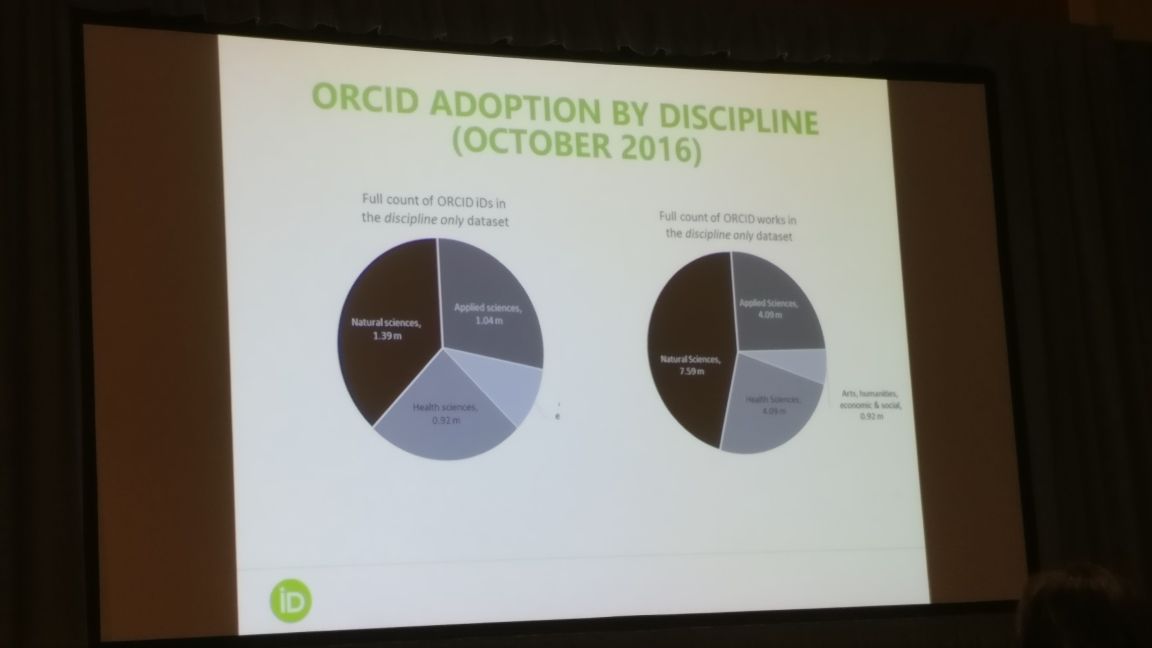 The final presentation of this session was by Sara Schroter from the BMJ. The BMJ wanted to check the feasibility of incorporating patient peer reviews into the traditional peer review process. This presentation was perhaps the most fascinating innovation that was discussed on Day 3.In addition to comparing acceptance and completion rates as well as timeliness of review between patient reviewers and traditional reviewers, authors and reviewers were surveyed about their views on the value of patient reviews.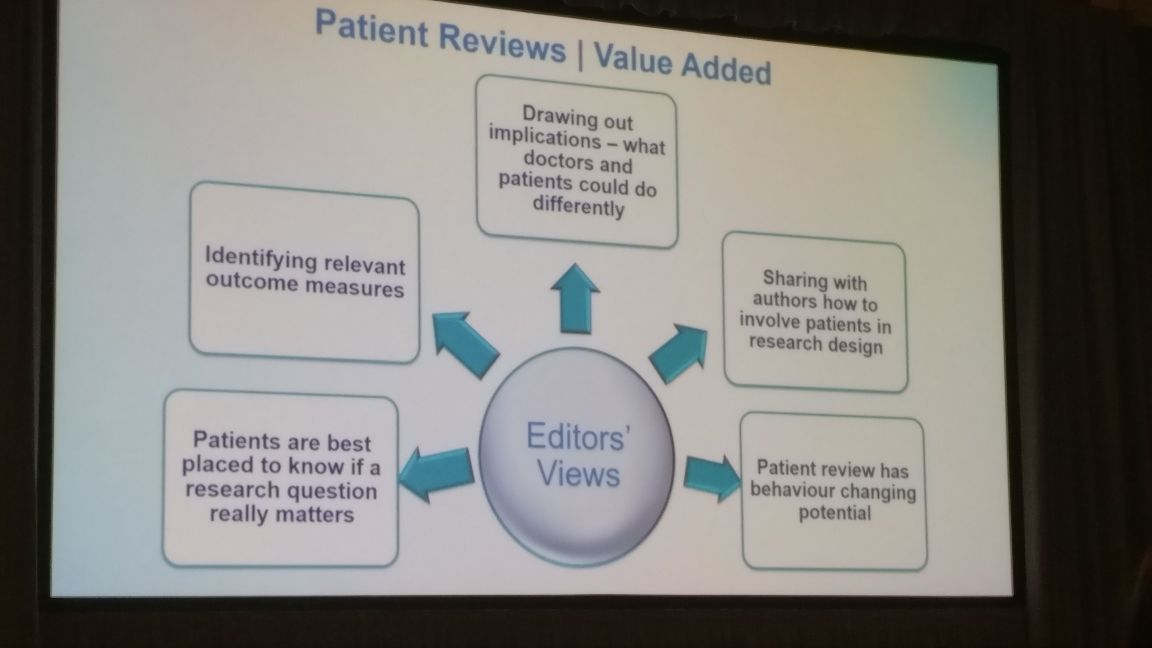 The results concluded that patient peer review was feasible along with traditional peer review. It was considered beneficial by some editors and very important by patients and caregivers. However, future qualitative studies would evaluate the value of changes made to manuscripts because of patient reviews. A lively discussion with the audience after the presentation resulted in highlighting some possible negatives such as qualifications of the patient, which was not considered in this study. Everyone agreed that a patient's experience and perspective would add valuable information to any study.
We'll cover the sessions of the second half in the next part of the report. The post-lunch sessions will discuss pre-publication and post-publication issues.
Related reading:
Download the full report of the Peer Review Congress
This post summarizes some of the sessions presented at the Peer Review Congress. For a comprehensive overview, download the full report of the event below.
An overview of the Eigth International Congress on Peer Review and Scientific Publication and International Peer Review Week 2017_10_0.pdf
You're looking to give wings to your academic career and publication journey. We like that!
Why don't we give you complete access! Create a free account and get unlimited access to all resources & a vibrant researcher community.