How to write a research paper in English
This post presents some tips shared with the graduate students at Inha University, Incheon, Korea, August 25, 2014.
To further develop the ongoing relationship between Editage and Inha University, John D. McDonald, an experience trainer for Editage Korea, conducted a workshop at their university. The focus of this full-day workshop conducted on July 8 and 10, 2014, was "How to write a research paper in English," customized to the needs of the graduate students. The workshop focused on core organizational concerns and language problems when writing in English, and included practical examples of how writing can be improved.
Attended by over 80 students, standard concepts for full-day workshops were covered in this session: a brief discussion of some trends and reasons for research writing, a discussion of organizational and ethical concerns in the writing process, and then a discussion of practical tips pertaining to key aspects of the language and styles used in research writing.
The day began with a discussion of a key problem for writers in English—not having a plan when they begin to write. Central to this 'map' is that writers should know where they plan to submit their work, as this affects everything from the level of vocabulary used, to formatting of the work, and the actual presentation of key concepts, so that the target readers can process the information efficiently. To streamline the submission process, publishing companies typically present common concerns about key guidelines on their website.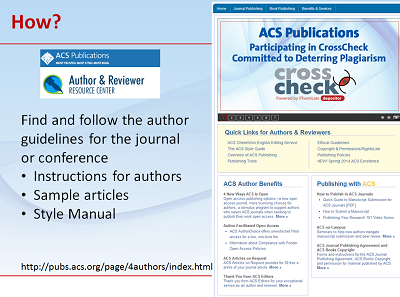 Figure 1: Sample website showing how publishing companies give information about their expectations for authors.
In terms of practical skills, a major part of the day focused on the structure of an English-language paper. The standard structure of information (IMRaD) was presented, along with the concept that English is 'top-loaded' at the paragraph level and 'front-loaded' at the sentence level. As a specific example of this concept of organization, the 3 steps necessary for an Introduction were discussed, with a special focus placed on the importance of clearly defining the research area so that the paper becomes a 'solution' to the problem stated. These concepts were supported with examples from published materials and continued through all sections of a research paper.
After this section, there was a discussion of the importance of style and formatting, with a number of differences between English and Korean presented. Importantly, the use of appropriate referencing style was presented, in which the wrong style was described as 'dressing inappropriately for a job interview.'
With the prevalence of using computers in all areas of research, the section on 'computer use in writing' was of particular interest to the attendees. Tips for use included how to use MS Word to check spelling and grammar, to suggest synonyms and provide translations, as well as how to use 'track changes' features. As MS Word is an industry-standard tool, it is important that all researchers be able to use it effectively.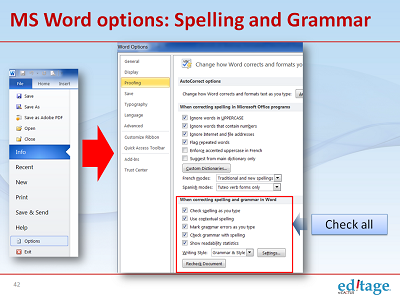 Figure 2: An overview of how to use MS Word to check spelling and grammar, to suggest synonyms and provide translations, as well as how to use 'track changes' features.
Overall, the session at Inha University was an interesting opportunity to engage new researchers as the majority of attendees were quite active in asking questions and providing responses to queries throughout the day.