A special six-week challenge on our sixth birthday–Are you ready?
---
Editage Insights turns six today! We complete six years as a platform for researchers and publishing professionals across the globe. What an incredible journey it has been! When I think about how we have grown and the things we have learned over the years, I feel a mix of pride, nostalgia, and excitement. I feel proud when I look back at some of the things we have achieved so far. I feel nostalgic when I recall the great conversations we have had with members of the Editage Insights community. I feel excited when I think about what the future holds for us and how the community is shaping up.
Over the years, the Editage Insights community has grown by leaps and bounds and we owe all of this to you, our readers. Through all of our ups and downs, special moments, achievements, and everything else the one thing that has remained constant is you – our readers, our community. We have you to thank for being our source of inspiration from the very beginning!
Because of your constant support, encouragement, and super enthusiastic participation, we have been able to reach new highs and achieve new milestones. Here's a quick glance at what we have achieved because of your support.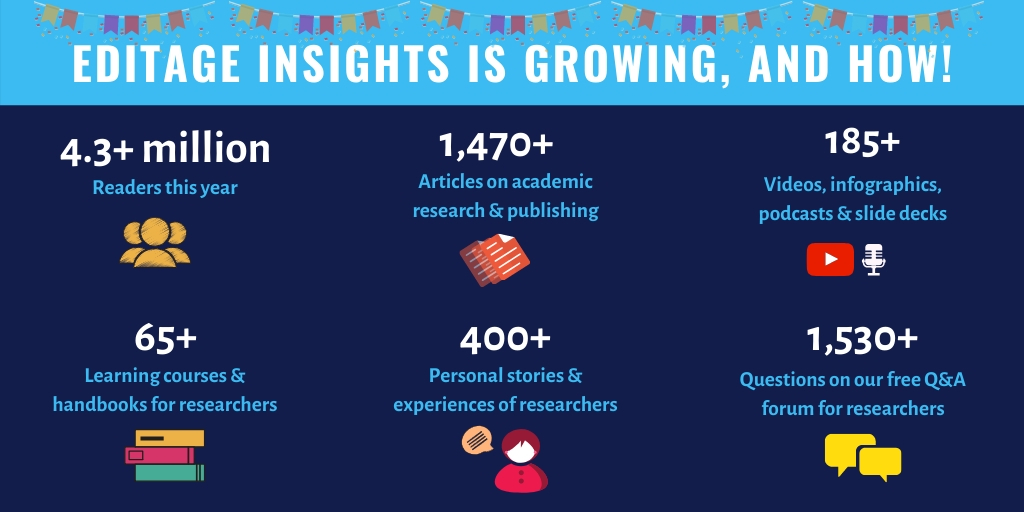 At Editage Insights, we believe in celebrating our anniversary in style, and so we have a bunch of some fantastic events, engaging activities, and interesting posts lined up for you that we'd love for you to be part of. There are some cool prizes up for grabs, too. So make sure you join our birthday celebrations and participate.
Here're a bunch of things we're doing to make our birthday special, and each of these has something interesting for you!
First-time ever on Editage Insights – A two-part webinar series on statistics
As a researcher, you often need to analyze large amounts of data, and we know how challenging this could get. To help you better, we have invited an experienced biostatistician, Prof. Jo Røislien (Professor of medical statistics at the University of Stavanger in Norway), to show you how you can go about analyzing your data. Did I mention that Prof. Røislien has developed and hosted a popular television science show and is the first ever Norwegian to be a host on Discovery Channel? He's a great communicator and his session promises to be exciting.
Block your seats if you haven't done so yet!
Know thy data (Episode 1) – Understanding univariate and bivariate analyses
Date: November 14, 2019
Time: 8:00 AM EST 
Block your seat
Know thy data (Episode 2) – Looking at univariate and multivariable regression analyses
Date: November 21, 2019
Time: 8:00 AM EST
Block your seat
An exclusive story contest for researchers – with cool prizes worth up to $5000
You may have come across our section titled Researchers and Their Stories, where we have featured over 400 personal stories of researchers and academics. This section is a safe space for you to talk about yourself – about what you feel and experience while navigating your research journey or academic career. We're inviting you to come forward and share your story, because your story is unique and can touch or inspire another researcher thousands of miles away!
As part of our special birthday celebrations, we are running contest to reward researchers for sharing their stories. Submit your story now to win prizes worth up to $5000! What's more? We are giving away a $1000 publication kit from Editage to everyone who shares a story by November 30!* (*T&C Apply).
A special six-week challenge for you
Our Editor-in-Chief, Clarinda Cerejo, has something really exciting lined up for you. She is launching a unique six-week challenge on our birthday. As part of this challenge, every week she will introduce something new and challenge you to do it during the week. All you have to do is to follow the instructions to complete the challenge. Don't worry, she won't ask you to do anything super scary. Just a few small things that will make your day! Sounds exciting, doesn't it?
Stay tuned to know more!
The world's largest global survey on mental health in academia
We recently learned that researchers are six times more likely to experience clinical anxiety and depression than the general population! We were heartbroken! But it also got us thinking about you, your mental health, and your well-being; specifically how you as a researcher go through your day-to-day life. For example, does your work environment motivate you? How do you manage your work and personal life? Do you receive enough support from your supervisors? What would you want to see changed in your current environment?
We strongly feel that it's time to start caring about how researchers feel – both about their work as well as the environments they work in. In order to capture the researcher community's thoughts on this globally, we're running a large scale survey on the highs and lows of academic life. And there could be no better time than our birthday to invite you to take this survey and share your inputs to make your research environment better.
Take the survey now! (Takes <10 minutes!)
Complete access to ALL of our learning courses and handbooks for researchers
Did you know that the Editage Training Academy hosts more than 65 training courses and learning handbooks for researchers? These structured learning packages have been specially created and curated to help you navigate each stage of your research and publication journey with confidence. 
You can now get access to ALL of our exhaustive learning courses and concise handbooks for researchers as part of one single subscription. Yes, you read that right. 
Opt for a monthly or annual subscription to our ALL ACCESS PASS and get access to every single learning resource available on the Editage Training Academy. 
Click here to know more, or get your ALL ACCESS PASS today!
Isn't this exciting? Let the celebrations begin!
If you have any questions about these activities or need more details, feel free to write to us at insights@editage.com and we'll get back to you.
Happy birthday to us!
You're looking to give wings to your academic career and publication journey. We like that!
Why don't we give you complete access! Create a free account and get unlimited access to all resources & a vibrant researcher community.