Environmental Health Perspectives: Quick facts and tips for submitting to this journal
---
Publisher

National Institute of Environmental Health Sciences (United States)

Aims and Scope

 

Environmental Health Perspectives aims to communicate recent scientific findings and trends in the environmental health sciences; improve the environmental health knowledge base among researchers, administrators, and policy makers; and inform the public about important topics in environmental health.

It publishes research and news in the field of Public, Environmental, and Occupational Health, specifically basic research; epidemiologic studies; risk assessment; relevant ethical, legal, social, environmental justice, and policy topics; longitudinal human studies; in vitro and in vivo animal research with a clear relationship to human health; environmental medicine case reports, and children's environmental health.

 

Frequency of

publication

 

Monthly

The EHD Chinese Edition is published bimonthlu and includes translated EHP news, original or reprinted editorials, research abstracts from past issues, and occasional commentaries and reviews

 

Editorial board

 

Dr. Hugh A. Tilson, Editor-in-Chief

Dr. Jane C. Schroeder, Science Editor

Contact info: http://ehp.niehs.nih.gov/contact-ehp/

Further Editorial info: http://ehp.niehs.nih.gov/editorial-board/

 
CRITERIA FOR PUBLICATION
Must be one of the following manuscript types: corrspondence, commentaries, research articles, substansive reviews, quantitative reviews and meta-analyses, or reviews based on meetings or conferences

Originality, scientific quality, environmental health significance, clarity of presentation, and conciseness (Scientific quality and environmental significance have a higher weight than the other criteria.)
EDITORIAL POLICIES AND SUBMISSION GUIDELINES
Submissions to Environmental Health Perspectives are only taken online and must be submitted with a cover letter that includes specific points: (1) originality of work, previous publication in whole or part, dual submission (2) humane treatment of animals according to institutional guidelines (3) consent of human subjects (4) competing interests (5) copyrights and permissions to reproduce (if applicable) (6) authors' permission and acceptance of responsibility for contents (7) preferred and nonpreferred reviewers and (8) if applicable, a statement of redundant or duplicative work.

Contributions must be original works of the author and not have been previously published in print/online or simultaeneously submitted to another publication.

Environmental Health Perspectives follows rigid protocols for plagiarism and allegations of data fabrication. Documented plagiarism and allegations of data fabrication is relayed to the authors' host institutions and could result in: a 3‑year ban on future publication in EHP, a published Expression of Concern, and/or retraction of the paper. 
Papers will not be processed until the Competing Financial Interests Declaration (CFID) form is submitted on behalf of all authors. Authors must disclose all actual and potential competing financial interests occurring in the last 3 years.

Authors must certify that the freedom to design, conduct, interpret, and publish research is not hindered by any sponsor.

Acknowledgements section of the manuscript must include statement of disclosure that is consistent with the information given in the CFID form. 

Manuscript must be prepared according to guidelines. 2013 version can be found here: http://ehp.niehs.nih.gov/wp-content/uploads/2013/03/ita.pdf (Be sure to check for later versions).
MANUSCRIPT REVIEW PROCESS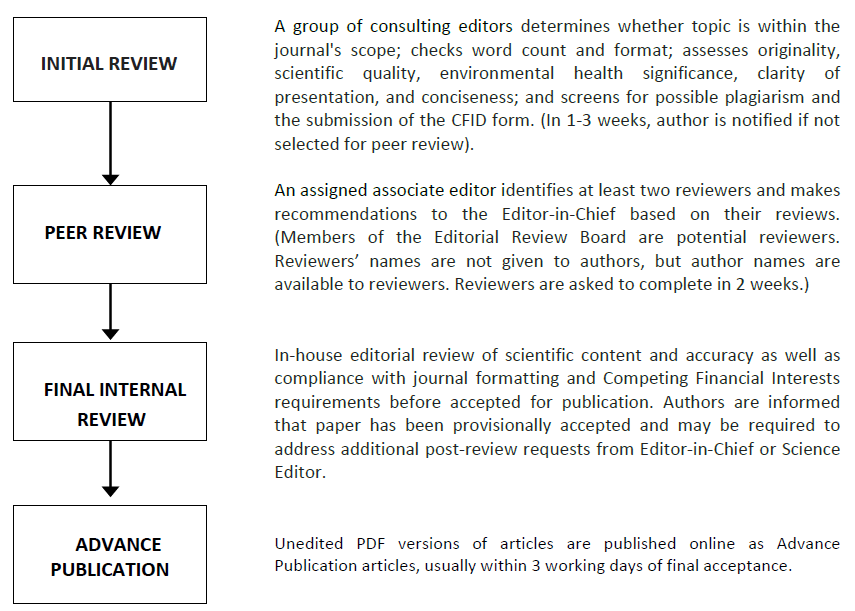 GOOD PUBLISHING PRACTICES
If animals were used in the study, the author must provide assurances for their humane treatment.

If humans were involved in the study, the author must follow the Common Rule, be approved by the appropriate institutional review board, and comply with all relevant national, state, and local regulations
If research involves humans and is conducted outside of the US, research must be performed in accordance with principles of the Declaration of Helsinki .

Methods section must include approval and compliance of research requirements and description of consent procedures.

If involving animals, EHP encourages authors to follow ARRIVE guidelines when designing their studies. (Editors and reviewers are advised to use ARRIVE when assessing manuscripts.)
Authors of review articles are advised to follow transparent reporting of systematic reviews suggestions as explained in the PRISMA Statement.
Authors performing microarray experiments should follow the Minimum Information About a Microarray Experiment (MIAME) guidelines by the Microarray Gene Expression Data (MGED).
Author is responsible to make a statement to the editor concerning materials in the manuscript that are duplicated and advised to see the Uniform Requirements for Manuscripts Submitted to Biomedical Journals: Writing and Editing for Biomedical Publication by the International Committee of Medical Journal Editors.
ADDITIONAL LINKS FOR AUTHORS
INDEXING AND METRICS
Indexed in Thomson Reuters + Scimago

Impact factor: 7.26 

Ranked #4 out of 209 journals in Environmental Sciences and #2 out of 158 journals in Public, Environmental, and Occupational Health 
(Source: Journal Information, EHP website)
Published on: Jul 21, 2014
Comments
You're looking to give wings to your academic career and publication journey. We like that!
Why don't we give you complete access! Create a free account and get unlimited access to all resources & a vibrant researcher community.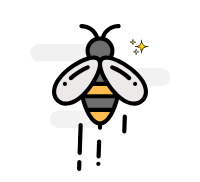 ---
Subscribe to Journal Selection
After writing a research paper, the next step is to find the right journal to publish it. Subscribe and get curated content to find the perfect journal that will give impetus to your research paper and your career.
---