Scholarly publishing experts share candid thoughts at the ISMTE 2018 Asian-Pacific conference
---
I attended the Asian-Pacific Conference of ISMTE along with Editage colleagues Donald Samulack, President, US Operations, and Satyajit Rout, Head, Research Communication Services, in beautiful Singapore, March 26-27, 2018. As part of the Conference Planning Committee, I had been involved in discussions about the conference agenda, speakers, and logistics for several months and could hardly wait to see all the behind-the-scenes hard work come to fruition at the event. The fact that I love Singapore was an added bonus!
The conference turned out to be an intimate affair, with lots of familiar faces from the global scholarly publishing industry, thought-provoking conversations, and impassioned discourses. Twitter was abuzz with tidbits being shared live on #ISMTE2018, and Donald, Satyajit, and I decided to fuel the social conversations with live video clips, capturing thoughts of various experts and participants in attendance.
The conference kicked off with a keynote talk by Prof. José Florencio Lapeña, University of Philippines. Prof Lapeña offered a detailed account of his learning from the Eighth International Congress on Peer Review, which was held in Chicago, September 2017. Capturing the highlights of 3 days of intense discussions on peer review, ethics, the journal editorial process, and issues plaguing scholarly communication, Dr. Lapeña set the stage perfectly for the talks and sessions that were to follow. It was an honor to see that he had obtained much of the material for his talk from the Editage Insights series of reports on the Peer Review Congress, and I couldn't help beaming with pride at the acknowledgment of Editage Insights on several of his slides.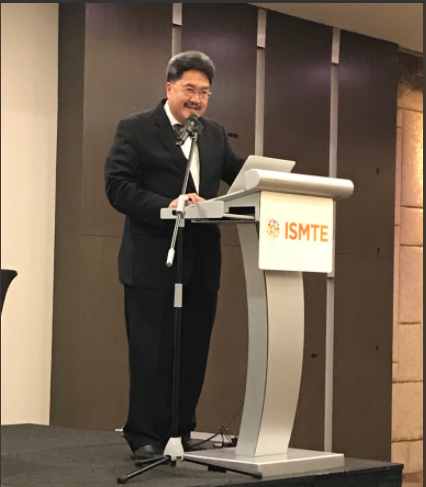 Happy to know that Dr. Lapena @lapenajf found our comprehensive report on the 2017 #PeerReview Congress useful for preparing his keynote talk! #ISMTE2018 pic.twitter.com/4TruHbkKOT

— Editage Insights (@Editage) March 27, 2018
Later on, I grabbed the opportunity to capture Prof. Lapeña's thoughts on what he was looking forward to in research and publication in 2018, and of course he didn't disappoint. 


He also offered a word of advice to researchers:
Moving on, the first panel discussion of the morning, conducted by John Inglis, Cofounder, bioRxiv and medRxiv; Dr. Sarah Tegen, Vice President, Global Journals Development, American Chemical Society; and Michael Wise, Department of Computer Science and Software Engineering, University of Western Australia, introduced us to everything we need to know about prepint servers. It was really interesting to understand how preprints are gaining momentum across subject areas even beyond the hard sciences, where they originated.
@JohnRInglis on @biorxivpreprint subject categories at #ISMTE2018 pic.twitter.com/UxjkhqQqBS

— Editage Insights (@Editage) March 27, 2018
Next came my favorite session of the conference on one of the hottest topics sweeping across the global publishing industry - science communication beyond the traditional journal article. On this session panel, our own Satyajit Rout was joined by Dr. Shuai Yan, Academic Relationship Director, Springer Nature (Greater China) and Dr. John Yang, Assistant Editor, Annals of Laboratory Medicine. This session opened our eyes to exciting new possibilities for taking research beyond academia and using it to engage a wide audience, including the lay public, through novel formats, such as video summaries, infographics, and plain-language summaries, and through popular channels, such as WeChat. With China recently becoming the world's No. 1 producer of research output, and WeChat emerging as an important communication channel used by publishers and societies in China, the segment on how journals are using WeChat to engage their audience received a lot of attention from the audience, and questions about WeChat came up in several subsequent sessions as well. 
.@rout_satyajit of @Editage explains why new content and enriched formats of #scicomm has impact and high recall value. A picture truly is worth 1,000 words. #ISMTE2018 #Infographics #video #phdchat #publishing #SciArt pic.twitter.com/vtSvZKYYB8

— Donald Samulack (@samulack) March 27, 2018
Finally! Someone talks about WeChat as a social media platform during a Western-lineage #publishing conference @ISMTE. I'm tired of only hearing about Twitter. If you wish to promote your #research or #journal in Asia, you need to be on WeChat. #ISMTE2018 #phdchat #academia pic.twitter.com/eoXHJVoTqr

— Donald Samulack (@samulack) March 27, 2018

Over lunch and coffee breaks during the day, Donald, Satyajit, and I managed to catch quite a few of the morning sessions' panelists for quick video clips to air their hopes for 2018 and share nuggets of advice for researchers. Here are some of the great inputs we received:
Satyajit Rout in conversation with Dr. Shuai Yan and Dr. John Yang
Donald Samulack in conversation with John Inglis 
Clarinda Cerejo in conversation with Dr. Sarah Tegen
After a sumptuous lunch buffet of all kinds of Asian specialties and dessert treats, we were all revitalized and ready for what the afternoon had in store. An insightful session on career development in the editorial office, led by Heidi Allen, Senior Manager, Peer Review Asia-Pacific, Wiley; Laxmi Narayan, World Scientific Co. Pte. Ltd.; and Dr. Sarah Tegen, was followed by a very practical talk by Lyndsey Dixon, Regional Journals Editorial  Director, APAC, Taylor & Francis, on launching a new journal. Lyndsey made everyone sit up and listen when she started her talk with reasons NOT to launch a new journal.
@lyndseydixon from @TandF_APAC on what to avoid when launching a new #journal #ISMTE2018 pic.twitter.com/K9YlwIKSc8

— Editage Insights (@Editage) March 27, 2018
Lyndsey was also part of the subsequent panel alongside Editage's Donald Samulack, to talk about how publishers are nurturing their author communities throughout the research cycle. Together, Lyndsey and Donald threw light on how publisher-author interactions have evolved far beyond transactional communication from submission to publication, and how publishers are now embracing the concept of researcher ecosystems and providing end-to-end support to authors. It was enlightening to see examples how several publishers are integrating third-party platforms and products, and partnering with author services providers, to meet the expanding needs of researchers.  
Then the authors came stomping their feet. Author ecosystem offers many touch points for publishers @samulack #ISMTE2018 @ISMTE pic.twitter.com/IxoC3Y29we

— Satyajit Rout (@rout_satyajit) March 27, 2018
Lyndsey's strong author-facing perspective also came across clearly in the quick take she allowed me to capture on camera. 
Day 2 of the conference was every bit as useful and informative as day 1. The session on how meta-data is evolving had us learning about (1) new meta-data initiatives at Crossref; (2) the first ORCID integration by a publisher in China, the Social Sciences Academic Press (China); and (3) and highlights of PIDapalooza—the persistent identifier festival.
.@NessaFairhurst of @CrossrefOrg describes how Cited-by works... sort of like CrossRef in reverse -- added user functionality. #ISMTE2018 @ISMTE #Research #PhDchat @Editage pic.twitter.com/nf9Mv1IEj9

— Donald Samulack (@samulack) March 28, 2018
New development at @CrossrefOrg Event Data helps track activity beyond scholarly circles, such as blogs and non-academic portals. Sort of like social citation currency. Great for tracking #scicomm efforts. @NessaFairhurst @ISMTE #ISMTE2018 pic.twitter.com/uuBfLTFcyO

— Satyajit Rout (@rout_satyajit) March 28, 2018
Social Sciences Academic Press in China is a great case study in integrating @ORCID_Org in China! #ISMTE2018 pic.twitter.com/JHk2kiWovO

— TONY ALVES (@OccupySTM) March 28, 2018
Finally, Tony Alves @OccupySTM to report out new initiatives from #PIDapalooza for #ISMTE2018 pic.twitter.com/S2k3AvhuMO

— Nobuko Miyairi (@NobukoMiyairi) March 28, 2018
It's always exciting to learn about new innovations in publishing that help overcome challenges with research dissemination. So the final session was an interesting one on new innovative tools for the editorial office, featuring Peter Shelley, Head, Business Development, Kudos; and Tim Houle, Chief Scientist, StatReviewer.  
Peter Shelley from @GrowKudos sharing how Kudos can help researchers disseminate their work better, faster, wider AND help track performance #scicomm @charlierapple #ISMTE2018 pic.twitter.com/U4j3YkcLmv

— Satyajit Rout (@rout_satyajit) March 28, 2018
Discussion of statistical review by StatReviewer by Tim Houle at #ISMTE2018 Asian-Pacific meeting. https://t.co/9IcVYCyFAY pic.twitter.com/hucTFyFNIG

— TONY ALVES (@OccupySTM) March 28, 2018
And that rounded up another great conference - two days of stimulating conversations and learning from experts in scholarly publishing.
We also captured sound bytes from Julie Nash, ISMTE President; Nobuko Miyari, Regional Director, Asia Pacific at ORCID, Tony Alves, Program Chair for the conference; Peter Shelley, Head, Business Development, Kudos; and Rick Lee of World Scientific.
Clarinda Cerejo in conversation with Julie Nash
Clarinda Cerejo in conversation with Nobuko Miyari


Satyajit Rout in conversation with Tony Alves
Clarinda Cerjo in conversation with Peter Shelley
Donald Samulack in conversation with Rick Lee
All participants were happy to take back as a memento a copy of the Editage-sponsored group photograph, which turned out really great!
And that's a wrap! We're so happy with how the group picture at #ISMTE2018 turned out! @ISMTE @ClarindaCerejo @rout_satyajit @samulack @JohnRInglis @NobukoMiyairi @lyndseydixon @OccupySTM @sbtegen @lapenajf @NessaFairhurst pic.twitter.com/ujssMTUhPW

— Editage Insights (@Editage) March 28, 2018
Given how well last year's Travel Grants were received, Editage is once again sponsoring Travel Grants for journal editors from East Asia to attend the ISMTE 2018 North American and European conferences. Applications are now open, so if you're an editor in East Asia, make the most of this opportunity and send in your application before May 1, 2018! Click here to learn more about Editage Travel Grants for ISMTE conferences. 
Published on: Apr 10, 2018
Passionate about author education and scholarly communications; excited to welcome you to the Editage Insights community!
See more from Clarinda Cerejo
Comments
You're looking to give wings to your academic career and publication journey. We like that!
Why don't we give you complete access! Create a free account and get unlimited access to all resources & a vibrant researcher community.