Who will fund your research?
---
Time and research dollars are limited resources for all researchers. Looking for funding prospects means less time for your work, but strong financial support in the end can make the time spent worthwhile. While you can go straight to the sources you are familiar with, it is wiser to widen the scope of opportunities. More options can mean better chances in finding the best possible match and returns for the time invested. This approach will inform you quickly, without the costs of directory or database fees: know the basics of who the funders are, what they fund, and what their conditions are. This post, the first in a series, will focus on governments as funders.
What is a research grant?
A research grant is a funding mechanism, to propel research is a particular field. Grants are instituted by varied institutions and bodies, and have specifications that the proposed research must cater to. 
What does funding for research mean?
Research endeavours are often expensive affairs, with implications for private or public bodies. They often need financial investment, catered to by varied institutions and funding bodies. Procuring funding for research is often a difficult aspect of the research process, and requires acquaintance with grants and funding mechanisms, among other things. Research funding is a sum of money given by a noncommercial or commercial source to support research activity.

Noncommercial sources span governmental and nongovernmental organizations (NGOs); commercial sources include companies. I'll begin with how to find governmental support. Knowing the reasons why governments want to fund you will help you find these sources more effectively.
Why governments fund your research
Increasingly more governments are working beyond borders for global development to help developing countries "catch up" to other countries. As a result, since research is believed to be the cornerstone for modern progress, governments of developed nations are supporting researchers from developing ones. Additionally, as nations begin to "catch up," they too are becoming better equipped to offer research funding to both citizens and foreigners. Essentially, such situations create mutually benefiting relationships as funders and recipients both advance their own knowledge in some aspect ranging from cultural sensitization to technological, economical, or political gain.
Tap unknown resources
Keeping  in mind the notion of knowledge exchange, fully realize what information and experience your research activity can provide and to whom, in order to help you identify other government opportunities. Aside from global development, another reason for international support can be an agency's interest in the subject matter within context of the study's region. An example of this is a fellow's research that aids a foreign trade commission and its interests in another region's consumer behavior and cultural trends. You can also explore regions similar in profile to the region(s) of your study and assess how the research may be relevant. For example, research on correlations between increased urban migration and climbing cancer rates in India may also relate to countries with a similar diet of legumes and vegetarianism or similar urban environments of overburdened infrastructure or pollution.
Expand your options
In addition to foreign governments, expand your search to include all levels of governments: local, state, national, and intergovernmental. Many foreign governments will have a global initiative for your region: the Research Council of the United Kingdom (RCUK) and its global initiative, RCUK China – formed to enhance funding partnerships between China and the UK (more on this, here) or the Ministry of Education and Culture of Hungary – the agency offers various levels of support to Koreans and Japanese people. However, local governments such as the Beijing Municipal Government Scholarship, also offer opportunities. An example of an intergovernmental source is the UNESCO/Japan Young Researcher's Fellowships Programme. You will be eligible for a number of opportunities either as a citizen, resident, or foreigner.
Additional things to consider
When considering governmental support, remember to begin early. Extra time may be required for the application process, fully understanding the conditions, and preparing detailed reports during and at the end of the term.
Learn about NGOs as funding sources in the next post.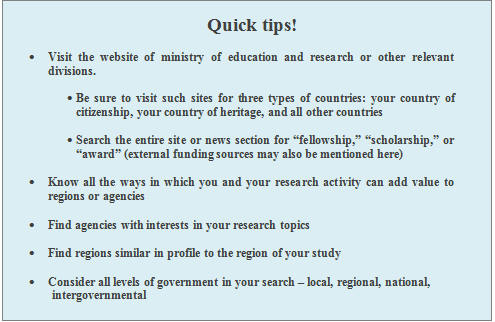 What a research proposal should include
A proposal for funding must provide information on your organisation, plan and vision for research, as well as details of budget and the research plan. The format is often prescribed by the funding agency in question. Otherwise, you can come up with your own format, inclusive of the cover letter, funding breakup, project implementation plan, and the like.
Checklist for securing research funding 
Find out about specific schemes and grants in your field or area of work.

Make a list of organisations that you would like to target, for funding.

 Note criteria of these organisations for funding.

Write research proposals comprising various components, like a project plan, financial breakup, etc, to suit every organisation or grant that you target.

Make sure that your central focus comes through, in your writing.

Ensure that research ethics and integrity is conveyed in your writing and project plan.

Write tailor-made cover-letters for each grant.

Check for grammar, spelling, and other stylistic devices in your writing.
Related reading:
Published on: Jan 28, 2014
Alagi combines her knowledge and enthusiasm for writing to produce content that will help researchers and publishing professionals globally.
See more from Alagi Patel
Comments
You're looking to give wings to your academic career and publication journey. We like that!
Why don't we give you complete access! Create a free account and get unlimited access to all resources & a vibrant researcher community.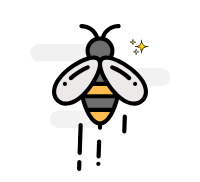 ---
Subscribe to Career Growth
Take a step toward advancing your career by learning more about getting funded, disseminating your research widely, and developing essential skills that will open new opportunities for you to succeed. Subscribe to receive curated content.
---