Meet Editage Insights' most engaged community members
This article is part of a Series
This article is part of a Series
Series
Celebrating 4 years of Editage Insights
We celebrated our four-year anniversary all through November 2017! To commemorate this milestone of Editage Insights, we looked back at our journey, reflecting on the content we've published and how we have grown as a community. Our team members took a step back from their roles and picked their favorite content published on Editage Insights in various formats. The posts in this series will take you through each team member's favorite infographic, video, Q&A, and much more! You will also get a glimpse of what the Editage Insights community feels about us and get a chance to meet our most engaged members.
Read more
---
November being the anniversary month of Editage Insights was an exciting time for all of us! Our four-year anniversary celebrations involved a lot of reminiscing and planning for an action-packed year ahead.
However, the true commemoration of Editage Insights' success would be incomplete without mentioning the amazing Editage Insights community! You, the Editage Insights community, are the reason behind the success of this platform. Despite only four years under our belt, Editage Insights attracts 200,000+ monthly readers, and our community is growing every day.
For this reason, to mark our anniversary, we want to reach out and celebrate our most engaged and interactive community members. The Editage Insights community is a very active and engaged army! Each of you has made an invaluable contribution through your comments, feedback, support, and suggestions. There are some members, though, who keep in touch with us regularly; some seek expert advice while some belt out expert advice and help fellow community members.
And now we'd like you all to meet our most engaged community members.
Q&A Champs:
The one space on Editage Insights where you engage with us the most on a daily basis is our Q&A Forum. We are thrilled that some community members make it a point to interact regularly with the other members. They take out time to answer questions or simply converse with other members. And our two Q&A Champs are: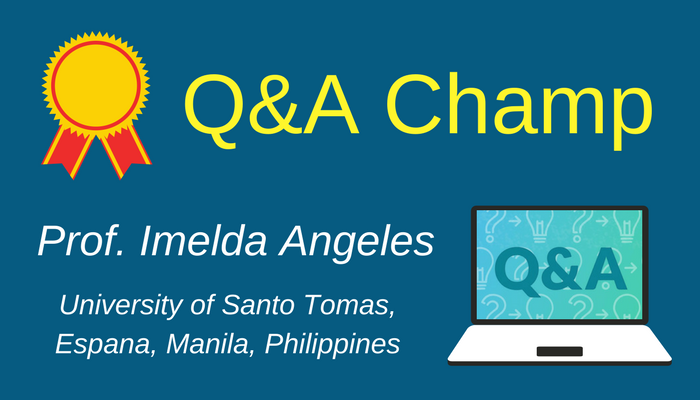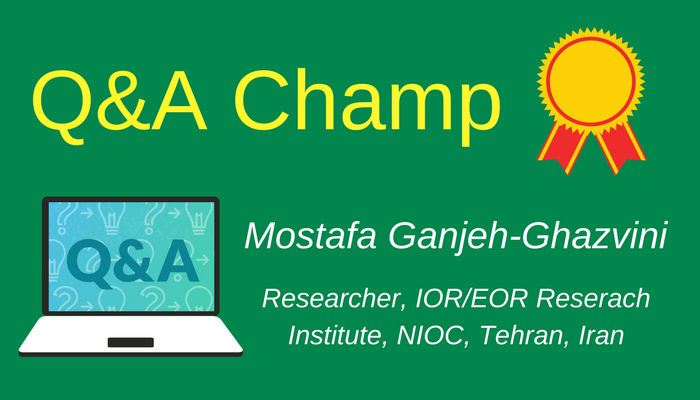 Professor Imelda Angeles and Mostafa Ganjeh-Ghazvini have been our most engaged members on the Editage Insights Q&A Forum! We appreciate their initiative to converse with the community and applaud their gusto. Thank you Professor Angeles and Mostafa!
Most Participative Reader and Most Prolific Commenter:
Next up, we sifted through the comments that appear at the end of all the content on Editage Insights. We identified our "Most Participative Reader" in this section and we also picked out our "Most Prolific Commenter."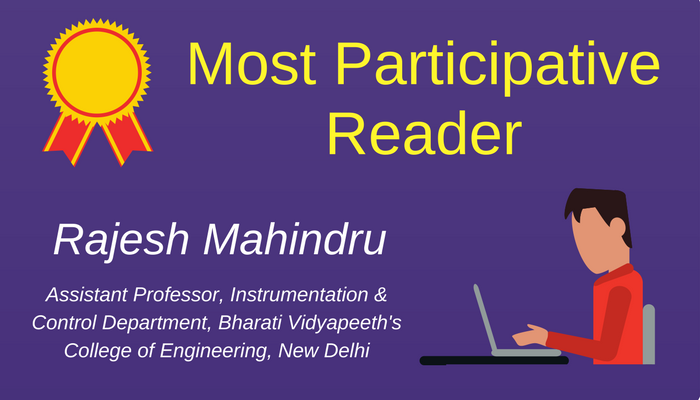 Rajesh Mahindru has been our Most Participative Reader; he posted an admirable total of 52 comments! In his initial phase of interaction with us, Rajesh had queries about his manuscript's status. However, over the past year, he has become a pro on the subject and frequently provides detailed and prompt answers to others' questions about the same topic. We applaud Rajesh for being so enthusiastic and attempting to resolve other community members' publication-related questions.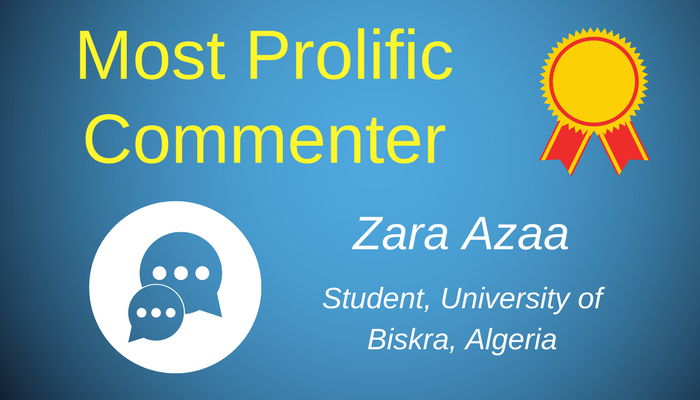 Zara Azaa is our Most Prolific Commenter as she has contributed significantly to community interactions through comments on Editage Insights. Zara has been posting comments on Editage Insights for over 2 years now. She has raised questions on a variety of interesting topics, ranging from simple queries about status descriptions to more complex ones about issues such as duplicate submission, affiliation change, correcting errors in a published paper, etc. We appreciate Zara for her never missing an opportunity to interact with the Editage Insights community.
We were thrilled to identify our most engaged community members and as a token of our appreciation, we acknowledged each of their contributions with special giveaways. We hope that you continue to interact with us and encourage other community members to do the same. We look forward to choosing from a larger pool of engaged community members next year. Who knows? You could be one of the names in this article in the years to come. 
Published on: Dec 07, 2017
Comments
You're looking to give wings to your academic career and publication journey. We like that!
Why don't we give you complete access! Create a free account and get unlimited access to all resources & a vibrant researcher community.