Spot quiz: An Editage Insights anniversary special
This article is part of a Series
This article is part of a Series
Series
Celebrating 4 years of Editage Insights
We celebrated our four-year anniversary all through November 2017! To commemorate this milestone of Editage Insights, we looked back at our journey, reflecting on the content we've published and how we have grown as a community. Our team members took a step back from their roles and picked their favorite content published on Editage Insights in various formats. The posts in this series will take you through each team member's favorite infographic, video, Q&A, and much more! You will also get a glimpse of what the Editage Insights community feels about us and get a chance to meet our most engaged members.
Read more
---
We're entering the final week of our anniversary month and thought it's a great time for a special anniversary spot quiz! How would you like the chance to win an exciting prize by answering just a single question related to scholarly publishing?
Posted below, within the image, is a question related to publication ethics. We've also given you 3 letters of the answer to help you guess faster. All you have to do is post your answers in the comments section below and the first lucky person who manages to guess the correct answer will win an exciting prize.
Can you guess the answer to the question? Hurry! Be the first person to answer correctly!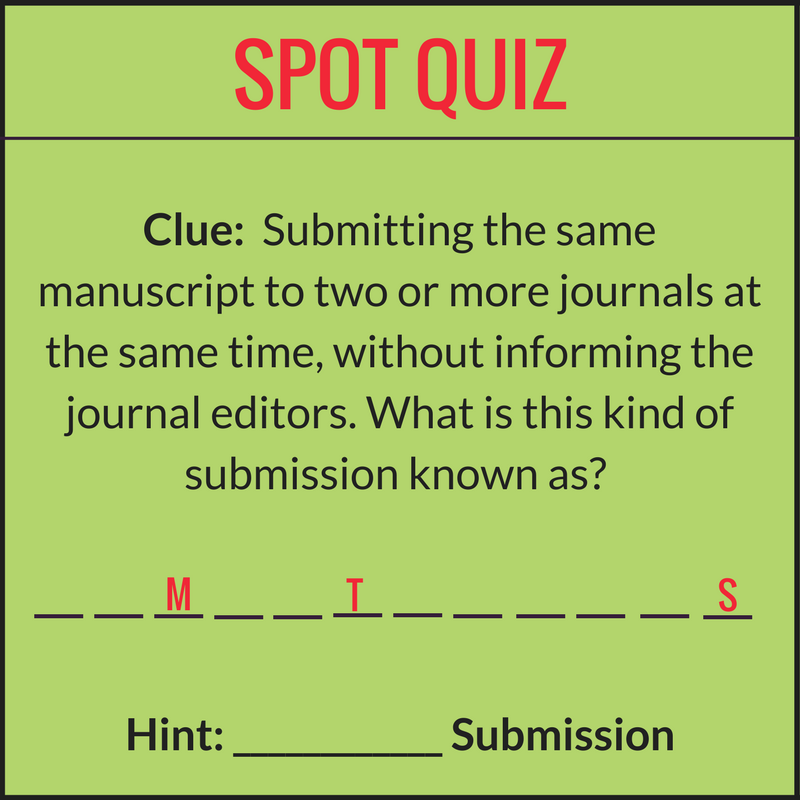 P.S. - We hope you know that submitting the same manuscritpt to two different journals at the same time is considered unethical! 
Liked this spot quiz? Stay tuned for more!
Published on: Nov 24, 2017
Comments
You're looking to give wings to your academic career and publication journey. We like that!
Why don't we give you complete access! Create a free account and get unlimited access to all resources & a vibrant researcher community.